Table of contents: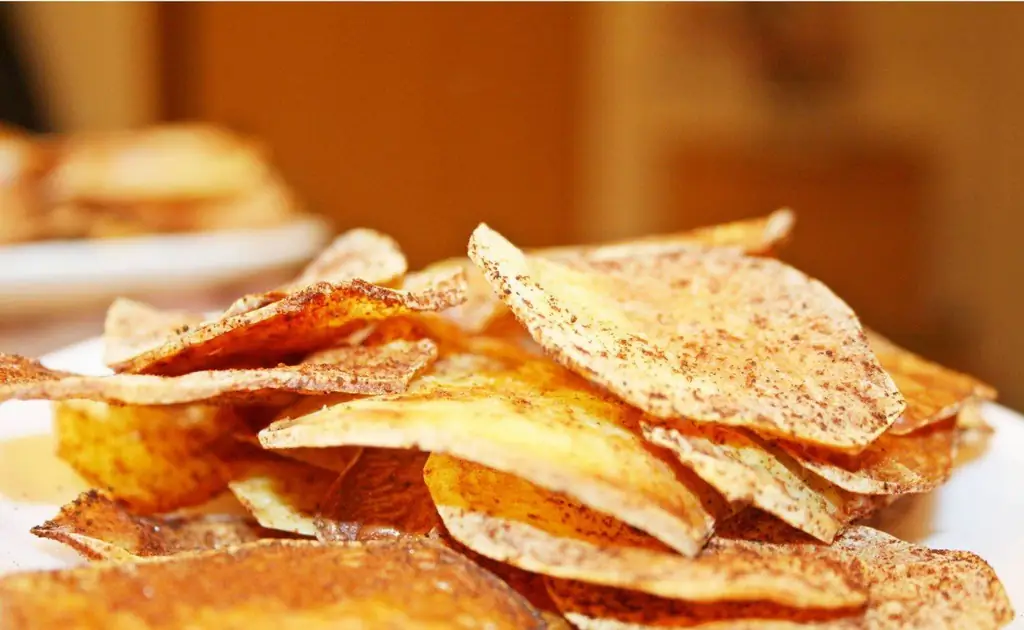 Video: How To Make Homemade Chips In The Microwave: Step-by-step Cooking Recipes + Photos And Videos
Chips in the microwave: potato, cheese and even fruit

A light snack during the day or evening gatherings with friends for a pleasant conversation - in such cases, chips often come to our rescue. Crispy, tasty, spicy and aromatic, salty or sweet - they satisfy hunger quickly enough and help to have fun. We are used to buying chips in the store, but more and more indignation is heard about the harmful additives that make up the finished product. Well, let's take matters into our own hands and make chips ourselves, without preservatives and flavor enhancers. And the microwave will help us with this.
Content
1 What you need to know

2 Any chips in a few minutes: step by step recipes with photos

2.1 Classic potato

2.1.1 Video: how to make potato chips in the microwave

2.2 Cheese

2.2.1 Video: cheese crunches

2.3 From thin Armenian lavash

1 Video: pita chips - even children can handle

2.4 Apple cider without oil

2.5 Banana

2.5.1 Video: how to make banana chips at home

3 Tips and Feedback
What you need to know
Traditionally, "microwave" chips are made from potatoes, cut into thin slices or finely grated and spread on a hot surface with a thin layer of cheese. Since we are not looking for easy ways and love to experiment, we will also consider unconventional options. For example, a crispy fruit treat. Such chips can be attributed to dessert dishes. They will be sweet and will surely be loved by kids, as they will be a great addition to juices, lemonades and other sweet non-alcoholic drinks.
All you need is, in fact, the main product and, if desired, your favorite seasonings. Vegetable oil may come in handy - the crust will be golden from it.
Now let's move on to the cooking method. Why a microwave? After all, chips can be fried in a pan or, in extreme cases, in the oven. Because in both the first and second cases, you will have to turn over each disc after some time. Firstly - no boiling fat, it contains a lot of harmful substances. Secondly, microwave cooking is much faster and easier than traditional cooking.
A little about safety rules:
do not use foil in the microwave;
put chopped potatoes or other foods on a dry microwave-safe plate, preferably a glass one;
you can lay a sheet of parchment paper on the dishes.
And one secret: to keep the chips light and crispy, cut the food as thin as possible. For this, a long knife, pre-sharpened, is suitable. It is even better if you have a special vegetable cutter or a shredder board: with their help, you will cut the potatoes as thinly and accurately as possible.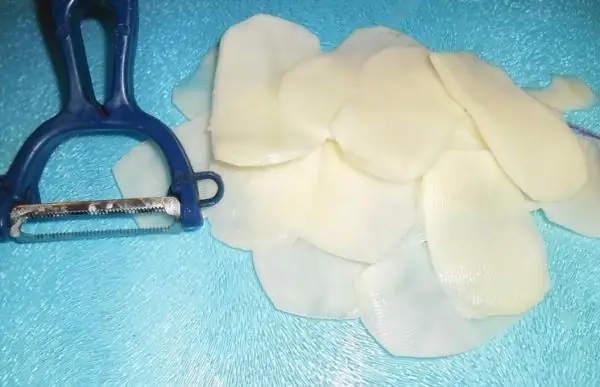 You can use a regular vegetable peeler to thinly cut potatoes or other chips.
Any chips in a few minutes: step by step recipes with photos
Let's move on to the fun part. As you can imagine, cooking chips in the microwave is not difficult at all. We offer you some interesting recipes that will delight family and friends.
Classic potato
Let's start with a traditional and simple recipe for potato chips that are familiar to us.
You will need the following:
2-4 medium-sized potatoes;
salt, pepper, spices (paprika, dried herbs, garlic powder) - to taste;
vegetable oil (if desired);
knife or shredder board;
sheet of parchment paper.
Preparation:
You don't need to peel the potatoes - the chips are even tastier with it. Just be sure to wash each tuber thoroughly. It is faster and more convenient to do this with a sponge or brush.

unpeeled potatoes

Do not peel the potato chips, but wash them thoroughly

Now cut each potato into thin slices.

sliced potatoes

Cut the potatoes into thin slices

Cover a dish or plate for a microwave oven with a circle of parchment paper, grease it with a little vegetable oil.

oil brush

Line a plate with parchment and grease it with oil

Spread the potato circles on parchment, sprinkle them with salt and seasoning. By the way, you can try making chips without salt and spices so that they have a pure potato flavor - it turns out great !

mugs of potatoes on a plate

Spread the potato mugs on the parchment.

Set the microwave power to 700 W, load a plate with chips and cook for 5 minutes. The surface of the chips will turn rosy brown. Remove them from the device and transfer to paper towels. The excess oil will remain on the paper, the chips will cool down and acquire their crispy brittleness.

potato chips

When you remove the ready-made chips from the microwave, wait until they cool and become crispy.
Video: how to make potato chips in the microwave
Cheese
A very simple quick recipe! Almost everyone loves cheese, so why not make a crispy, savory chip with it? It is much easier to cut than potatoes, and it cooks much faster, which means it will take you even less precious time.
All you need is:
hard cheese (for example, Dutch);
spices - to taste and desire;
parchment paper (required).
We will not regulate the number of ingredients. It all depends on how much cheese you have in stock and how many chips you need to be happy. You don't need to add salt, there is enough of it in the cheese itself. And do not overdo it with spices, so as not to outbid the piquant cheese flavor.
Preparation:
Try to choose a product with a low fat content, optimally no more than 9%. Such cheese will rise well, bake and become light and airy. Cut it into suitable sized slices.

sliced cheese

Choose hard cheese and cut it into thin slices

Take a piece of parchment, cut out a circle, and line it on a plate. It is not necessary to lubricate the surface with vegetable oil, because cheese releases a sufficient amount of fat during heat treatment. Spread the cheese wedges a short distance apart. Season with salt and spices if desired.

slices of cheese on parchment

Place the cheese slices on a piece of parchment

Set the microwave to 800-900 W for 2 minutes. Load the dishes with the pieces of cheese. When the device notifies you about the end of cooking, take out the chips and check them for readiness by prying them with a fork - they should be firm and easily come off the parchment. If the chips are still soft after cooling, put them in the microwave on the same setting for another 10-20 seconds.

cheese chips on a plate

Transfer the prepared chips to a plate and cool.
You can experiment with different types of cheese. Believe me, taste, aroma, and even appearance depend on the variety! Chips can take the form of an air cushion or a flat openwork pancake.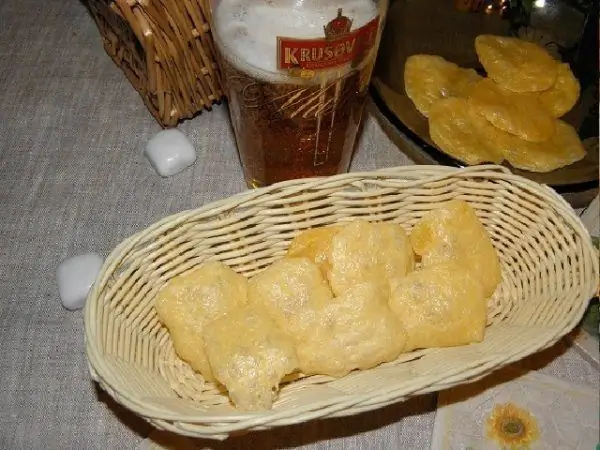 Cheese chips are the perfect beer snack!
Video: cheese crunches
From thin Armenian lavash
It is very simple to make such chips, just cut the pita bread into pieces, oil and send to the microwave until cooked. But you can spend a little more time and food to get such yummy - you will lick your fingers!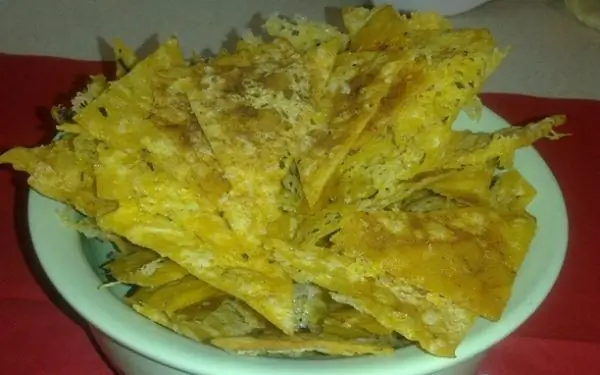 Try to make spiced pita chips - you won't regret it!
Take these products:
1 pack of Armenian lavash;
1 teaspoon paprika
1 teaspoon of French Herbs (or any spice of your choice);
½ teaspoon of salt;
½ teaspoon sugar, powdered;

3-4 tablespoons of vegetable oil, preferably olive oil.

products for pita chips

Prepare the necessary foods for making pita chips
Preparation:
In a deep bowl, combine butter, salt, sugar, spices.

mixture of butter and spices

Combine butter, salt, sugar, and seasonings in a bowl

From the parchment, cut out circles the size of your microwave plate.

parchment paper circles

Cut out the right size circles from the parchment.

Cut lavash into pieces of any shape - triangles, rhombuses or squares.

pita bread cut into pieces

Cut the pita bread into pieces

Put all the pieces in a bowl where the butter and spices were mixed. Knead with your hands so that each piece is evenly coated with oil.

pieces of lavash in oil

Saturate pieces of pita bread with a mixture of butter and spices

Spread the pieces evenly on the parchment. Right now, you can sprinkle future chips with grated cheese, if you decide to use it.

Place a plate of chips in the microwave, set it to full power and cook for 2 minutes. During this time, you will just have time to prepare a new portion of lavash pieces.

lavash chips

Arrange the pieces of pita bread on a plate and microwave

When all the pita bread is used up, transfer the chips to a plate and serve. Children will be happy to eat them just like that, and adults - as a snack for foamy beer.
Video: lavash chips - even children can handle
Apple without butter
And these chips are perfect for those who care about their figure, as a light snack. They are sweet yet low in calories. Of course, you can't serve them with beer, but with tea, coffee or light wine - that's it!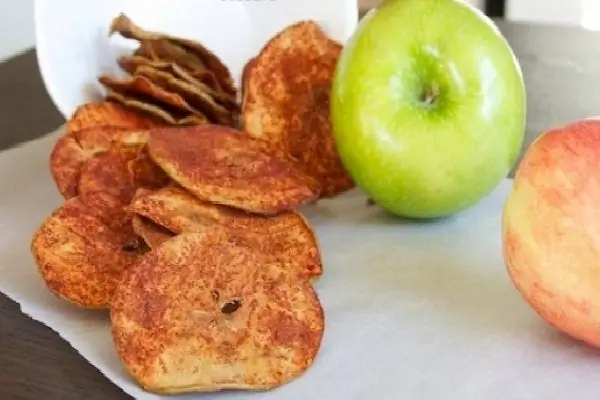 Apple chips can be served with wine or hot drinks
You will need:
2 larger than average apples;
2 tablespoons brown sugar
½ tablespoon of cinnamon.
This amount of food is needed for 4 servings. Now let's get down to cooking.
Wash the apples, wipe them with a napkin, cut them lengthwise and remove the core. Cut the fruit into very thin slices, no more than 2 millimeters. It will be more convenient to use a vegetable peeler.

apple slices

Cut apples into thin slices

Combine the cinnamon and sugar in a deep bowl.

a mixture of sugar and cinnamon

Mix cinnamon and sugar in a bowl

Roll the apple slices on both sides in the cinnamon sugar mixture.

apples in sugar and cinnamon

Dip the apple slices in the cinnamon sugar mixture

Spread the plates in one layer on a plate (you can cover it with parchment). Microwave for 5 minutes with the device on full power.

apples with cinnamon on parchment

Arrange the apple slices on a parchment-lined plate and cook for 5 minutes at maximum power

When the microwave turns off, take out the apple chips and let cool. They are soft when hot, and crispy and light when cold.
Banana
So how do you do without the banana option? After all, banana is a favorite treat for children and adults, and chips made from it will surely become one of the most favorite snacks for your family.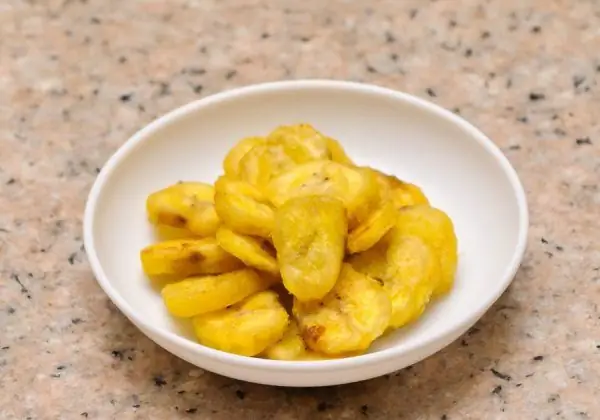 Banana Chips are sure to delight kids and adults alike
You will need:
2 bananas (preferably green, not ripe);
2 tablespoons of vegetable oil, better than olive oil, but refined sunflower oil is also possible;
1 pinch of salt;
¼ teaspoon of turmeric.
Let's start cooking:
Put the unpeeled bananas, right in the peel, in a saucepan filled with water so that it completely covers the fruits. Let it boil and cook for 10 minutes.

banana in a saucepan

Boil unpeeled bananas for 10 minutes

After that, turn off the heat under the pan. Take out the bananas and wait for them to cool.

boiled banana

Remove and cool bananas

Peel the bananas and cut into thin circles. Do not forget that the circles must be the same thickness, otherwise they will cook unevenly.

slicing bananas

Cut the bananas into equal sized slices

Sprinkle banana slices with vegetable oil, sprinkle with salt and turmeric.

slices of banana on a cutting board

Add vegetable oil, salt and turmeric to the banana slices

Get a flat plate that you can use in the microwave. Spread banana circles on its surface so that they do not touch each other.

banana slices on a plate

Arrange the banana wedges on a plate

Place the plate inside the microwave. Set the highest power and time to 8 minutes. Every 2 minutes, you will need to take out a plate and turn the chips to the other side for even browning.

setting the microwave setting

Set the desired microwave setting and put a plate of bananas in it

When the chips are ready, remove them from the microwave, transfer them to a dry plate and let cool. They will harden and become crispy.
Video: how to make banana chips at home
Tips and Feedback
Delicious chips from any product will fill your home with aroma and cheerful crunch! Surely among our recipes you will find one that will appeal to your loved ones. Serve chips any time of the day as a snack and addition to breakfast, lunch or dinner. Try to cook them with your children. Share your best recipe with us in the comments. Bon appetit and comfort to your home!
Popular by topic