Table of contents: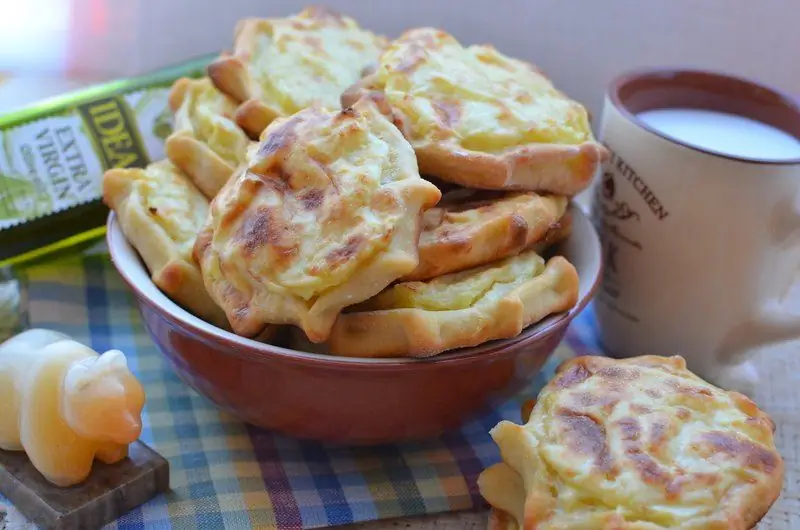 Video: Shanezhki With Potatoes: Step By Step Recipes With Photos And Videos
Lush and fragrant shanezhki with potatoes: simple recipes
If you love baking, then you probably know what shanezhki is. They are prepared with different fillings, but more often with salted ones, to be served with the first or second courses. Traditional Ural shangs are so light, fluffy and airy that one gets the impression that only a professional chef can cook them. But in fact, it is not at all difficult: try to bake delicious shanezhki with potatoes with us.
Recipe for Ural Shanezhes with potatoes
Traditionally, shangs are prepared with yeast dough. For this recipe you will need:
3 tbsp. flour (about 450 g);
100g butter;
1 tbsp. l. sour cream;
1 egg;
125 ml warm water;
1.5 tbsp. l. dry yeast;
1 tbsp. l. Sahara;
1 pinch of salt;
2 tbsp. l. vegetable oil.
For the filling, take:
4 potatoes;
3 tbsp. l. butter;
4 tbsp. l. cream;
1 egg + 1 to grease;
1 pinch of salt.
Pour sour cream into a bowl, beat in an egg, add melted butter, salt. Combine water with dissolved yeast. Knead the dough, gradually adding flour, until elastic. Lubricate it with vegetable oil, cover with a napkin and leave in a warm place for an hour and a half.
Prepare the filling. Crush the boiled potatoes until tender, add the pre-beaten egg, warmed up cream and butter, salt and mix thoroughly. Wait for the puree to cool down.

By this time, the dough is already good. Divide it into equal small balls (about the size of a large apricot), spread on a baking sheet, flatten a little and make a depression. Put mashed potatoes in it.

Blanks for shanezhes

Put the filling in the prepared dough

Leave the dough pieces for 30 minutes to separate them and the dough will come up a little more. Brush the surface with a thoroughly beaten egg.

Shanezhki smeared with egg

A beaten egg will add a glossy shine to ready-made shanies

Place the baking sheet in an oven preheated to 200 ° C and leave there for 20 minutes.
Serve ready-made shanezhki hot - with heat.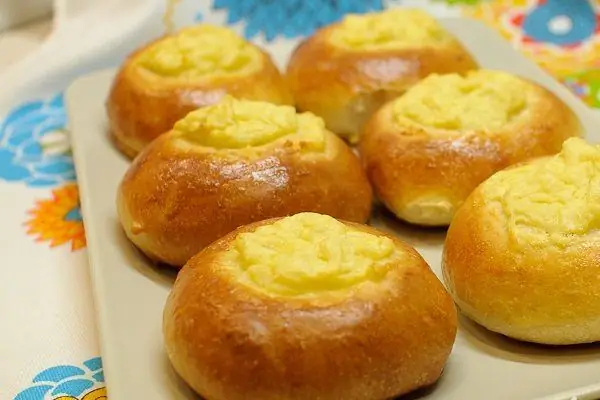 Serve the shanezhki hot
Shanezhki with potatoes and cheese on yeast-free dough
You can make shangi from yeast-free dough. You will need:
1 glass of sour cream;
1 egg;
1 tsp slaked soda;
½ tsp. salt;
150 g flour.
For the filling, take potatoes and 50 g of cheese.
I boil potatoes with seasonings according to my mood, add herbs and sometimes garlic. It is very important that when cooking mashed potatoes, all the broth is drained from the potatoes, otherwise the filling will creep out during baking. And instead of sour cream, you can take yogurt or kefir. In this case, add a little ghee to prevent the shang from being hard and dry.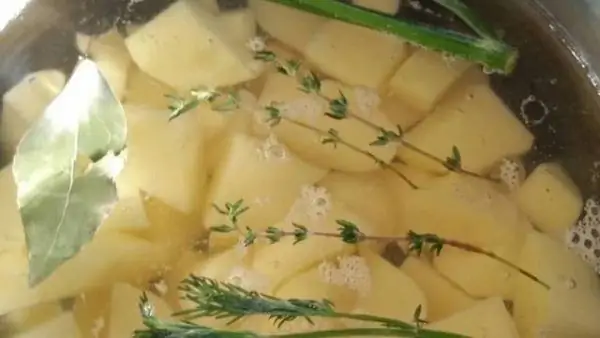 When boiling potatoes for the filling, add your favorite herbs and spices
Prepare the dough by mixing sour cream, baking soda, egg, and salt. Add flour gradually and stir until smooth. The dough should not be elastic, it is not even necessary that it lag behind the hands.

Kneading the dough

Shanezha dough does not have to be elastic

Divide the dough into small, even pieces, about half the size of your fist. Make tortillas out of them and lay out the filling. Form shanies by lifting the dough from the sides over the filling. Place them on a baking sheet, brush with beaten egg and sprinkle with mashed potatoes with grated cheese.

Shanezhki on a baking sheet

Sprinkle the potato filling with grated cheese

Place the baking tray with chandeliers in the oven at 180 ° C for 20 minutes. Serve ready-made shanezhki hot, with onion rings and ketchup.

Shanezhka with onions and ketchup

Onions and ketchup will perfectly complement the taste of Shanezhek
Shaneg video recipe with potatoes and mushrooms
We hope you enjoy our recipes. There are a lot of potato filling options for such shanezhes - with the addition of onions and carrots, mushrooms, minced meat. Try to make shanezhki with potatoes and tell us in the comments what you added to the filling and what dough you used. Enjoy your meal!
Popular by topic