Table of contents: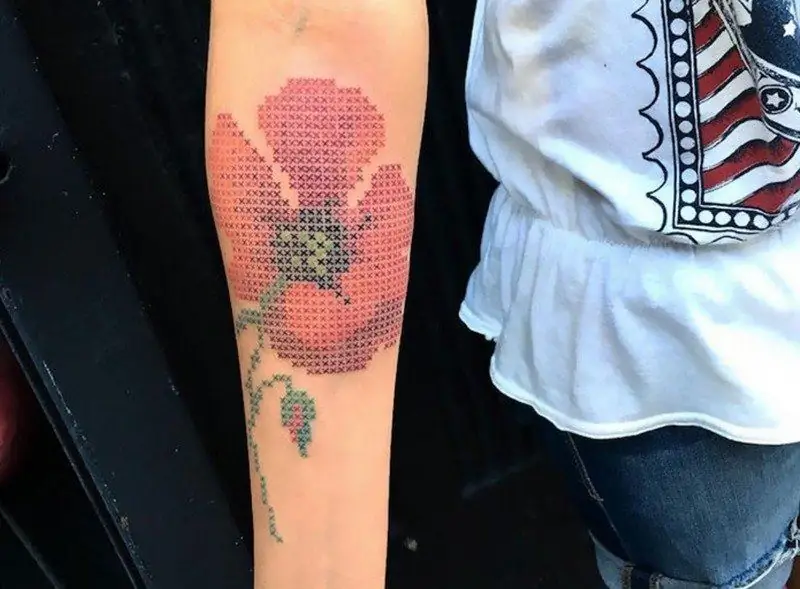 Video: Embroidered Tattoos: Photo, Why Style Is Popular
Tattoo embroidery: a style for needlewomen and not only

If earlier tattoos had a specific and not always positive message, now this is only part of the image. With their help, they reflect the inner world or character, remind themselves of an important event or simply decorate the body. There are many options, and everyone wants to "fill" something of their own. And definitely unusual. Tattoo embroidery can become the very curiosity that will make you stand out from the crowd.
The origin of "embroidered" tattoos
As you might guess from the name of the style, the "embroidery" tattoo imitates cross-stitch or satin stitching. And he does it literally, only instead of real threads, paints and a tattoo machine are used. Although embroidery also includes images of patches, stitches and stripes.
In fact, tattoo artists have long imitated conventional embroidery. True, this happens mainly abroad. In general, the trend cannot be called newfangled: in the Russian segment of the Internet, they talked about it back in 2015, although it almost certainly appeared earlier. It just so happened that foreign novelties "come" to us with a noticeable delay.

The advantage of the "embroidered" tattoo is that as a sketch you can use any scheme for ordinary embroidery
But the sharp rise in popularity of tattoo embroidery is due to Instagram. Recently, body painting masters are increasingly uploading their work to social networks, and tattoos with designs embroidered with a cross are no exception. There is a version that the authorship of this style belongs to Eva krbdk, but it is impossible to say for sure. And the artist herself specializes in miniature round tattoos, not embroidery.
Video: the process of applying a tattoo patch
Interesting tattoo ideas in the style of embroidery
The first thing to think about is traditional cross stitching. It looks simple and original at the same time. For a sketch of such a tattoo, you can take both an unpretentious pattern and a large-scale drawing, borrowed from the canvas.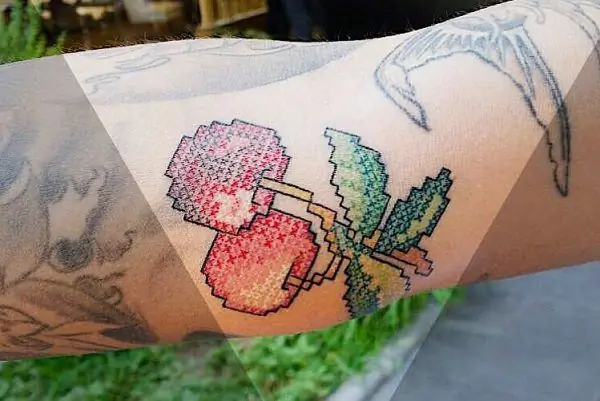 Even fairly simple embroideries look unusual after transferring to the skin.
And to make the tattoo look more interesting, you can add realism. For example, leave the "embroidery" unfinished or complete it with thread and a needle. You can also create a tattoo by placing the drawing in a hoop or frame.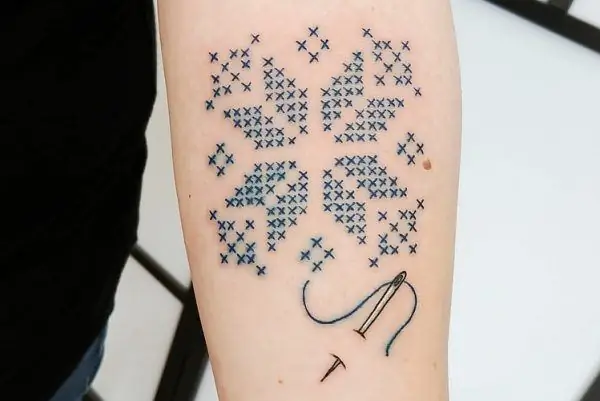 Tattoo embroidery with a needle is not for everybody, although this is what makes them more unique
In addition, tattoos that imitate stripes on clothes are popular. The reason is simple: the embroidery looks feminine and the patches are universal. Symbols or cartoon characters are often depicted in this style.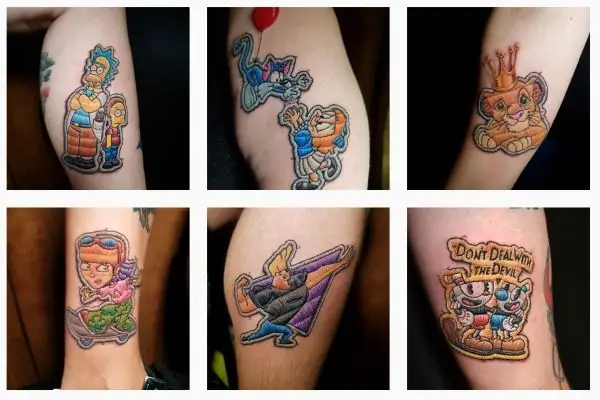 The more realistic a tattoo patch looks, the more interesting it is.
If the crosses seem to be overkill, pay attention to the sketches "embroidered" with satin stitch. Volumetric tattoos with animals or birds are especially beautiful.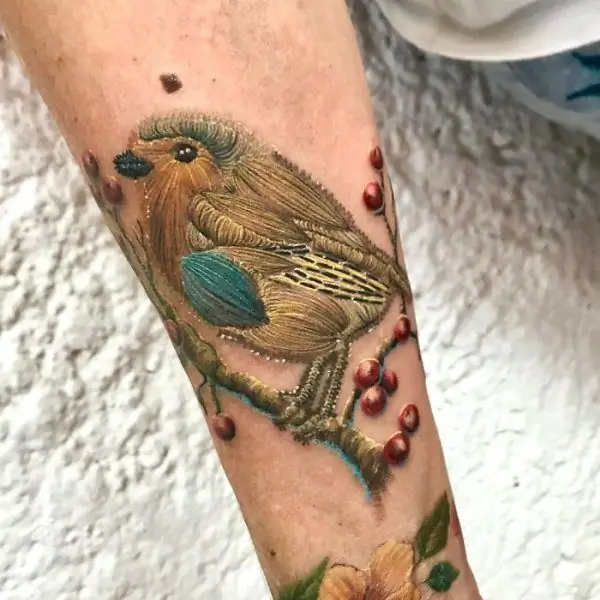 Satin stitch embroidery looks extremely feminine
The best option is to choose something in between a patch and a "smooth" embroidery. Such tattoos are unlikely to be brutal, but funny - easily.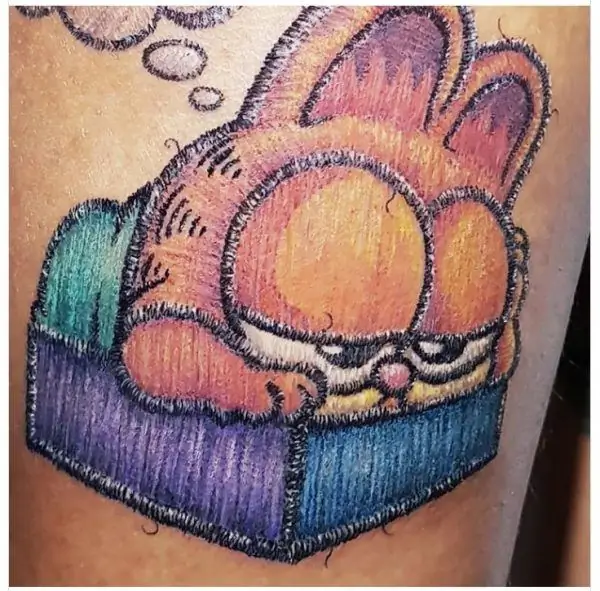 A funny tattoo using the "embroidery" technique can become a display of character
Flowers are a hot topic. Their plus is that they always look advantageous, whether it is thermal sewing, cross-stitch or satin stitch.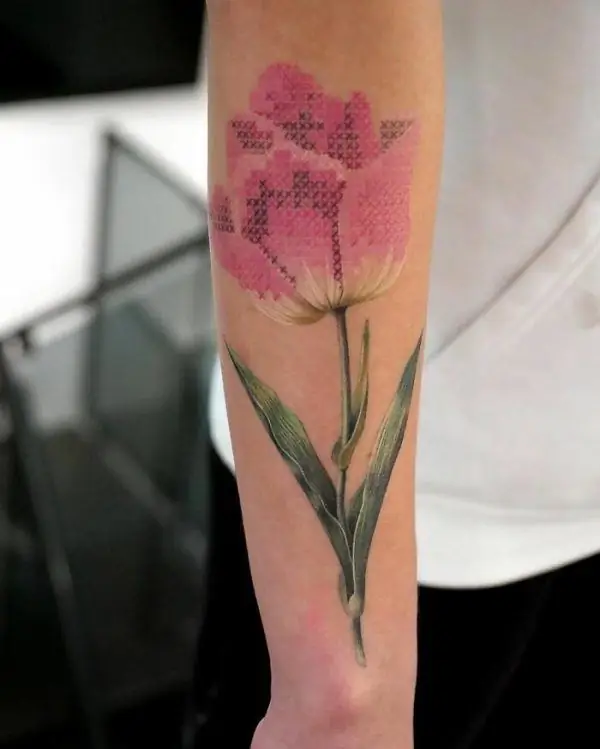 Cross stitch can complement a tattoo done in a different style
And if you want originality, then don't stop at embroidery only. After all, this style is easily combined with others. So, "stripes" come to life next to realistic or three-dimensional details.
The tattoo patch is effectively complemented by a realistic-looking cover
Well, since we are talking about combining styles, crosses are not always associated with embroidery. With their help, you can add pixelation to the tattoo, for example, blur the image in the picture with the TV.
Some elements of the tattoo can be depicted using crosses.
Traditional patterns are also hard to ignore. Nowadays, few people wear embroidered shirts - East Slavic shirts - but it is fashionable to decorate the body with tattoos with similar embroidery. Knitted things, Celtic, Khokhloma and other motives are often taken as a basis. Although, of course, this is not a reason to "stuff" a sweater on the skin.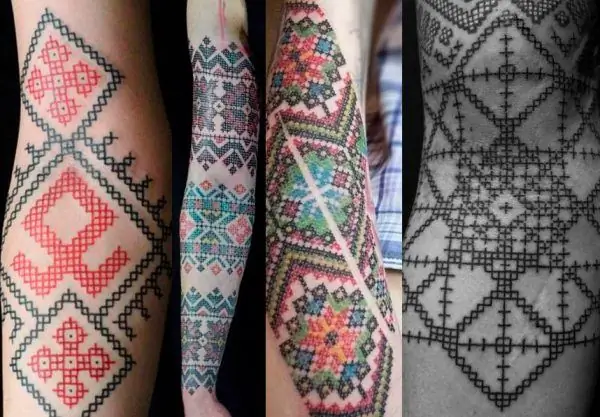 Folk designs on the skin often bear patriotism, although they can just as well serve as "just decoration"
Finally, don't complicate the composition of your tattoo. The style of embroidery is interesting in itself, so it allows you to take something elementary. Several bright stitches that form a geometric figure, some kind of inscription and the most simplified objects … if the tattoo artist is good, they will look no worse than the picture.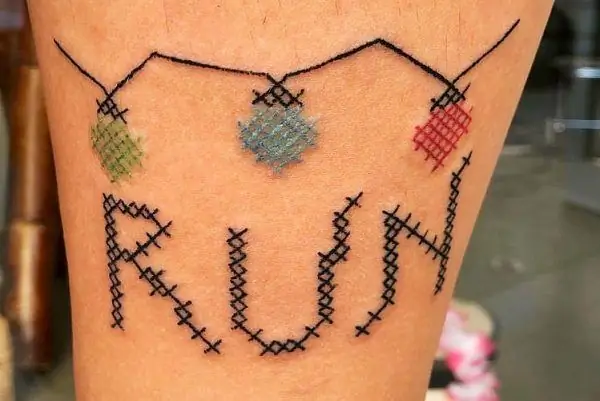 The "run" tattoo looks as simple as possible, but at the same time retains its originality
Gallery: tattoo embroidery
Heart tattoo

"Embroidery" brings an old tattoo to life or complements a more traditional drawing, making the sketch unique
Tattoo in the style of "embroidery" flowers

A tattoo can reflect a person's worldview or complement a stage image
Rick and Morty Tattoo Patch

Embroidery tattoo is suitable not only for women
Poppy

Tattoos in the form of embroidered flowers look the most feminine
Cross stitch pattern, tattoo

Even simple cross-stitch patterns are suitable as a tattoo.
Minions tattoo patch

Tattoo patches complement elements made in a different style
Satin stitch tattoo

Satin stitch embroidery goes well with inscriptions
Tattoo on the motive of painting

The main motive for a future tattoo may well be not only traditional embroidery, but also painting
Lily tattoo

Realistically executed tattoos look unusual
Stitch tattoo patch

Most often, "stripes" on the body depict popular cartoon characters
Themed tattoo patch

The volume effect is achieved exclusively through the skill of the tattoo artist
It is worth admitting that not everyone will like such tattoos. In addition, they will require a certain experience and quality from the tattoo artist, otherwise a large number of crosses or strokes will "creep away" during the healing process. But the embroidery style definitely has creativity and, importantly, a charm of its own.
Popular by topic