Table of contents: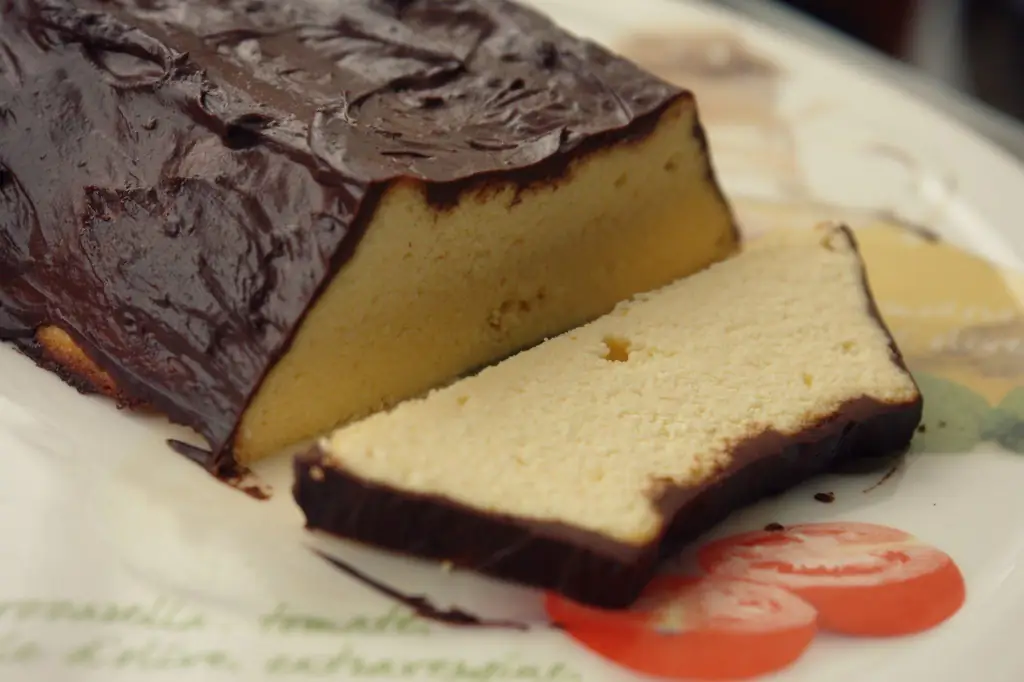 Video: How To Make Lviv Cottage Cheese Cheesecake: Recipes For The Stove And Multicooker + Photos And Videos
Lviv cheesecake - perfect cottage cheese breakfast

During its short history, Lviv cheesecake has already become a classic dessert of Ukrainian cuisine, which is served in coffee houses and restaurants. Many housewives prepare this dish at home, because the recipe for its preparation is very simple, and the result will certainly delight you. Today, in addition to the classic recipe, there are also author's variations of Lviv cheesecake, differing in some nuances and various additions to the curd base. We will figure out how to properly cook Lviv cheesecake and what options are offered by famous chefs.
Content
1 How to make the famous cottage cheese dessert

2 Step by step recipes

2.1 A classic recipe with boiled potatoes from Daria Tsvek
2.2 With raisins and nuts from Nina Niksya
2.3 With poppy seeds

3 Tips and reviews of hostesses
4 Video: cooking Lviv cheesecake in a slow cooker
5 Video: all the secrets of the correct cheesecake from Alla Kovalchuk
How to make the famous cottage cheese dessert
In the classic version of Lviv cheesecake, the following ingredients are mandatory:
homemade cottage cheese;
butter;
eggs;
sugar;
semolina or boiled potatoes.
For glaze, sour cream or cream, sugar, cocoa (in powder form), butter are used.
The preparation of the cheesecake begins with the need to grind the curd to give it a homogeneous state. Then, butter is added to the mass, previously softened, but not melted. After that, the yolks are introduced into the mixture, and then the proteins, which are pre-whipped with lemon juice. Then the cheesecake is baked, and after cooling, it is covered with chocolate glaze.
The curd base should be varied. Be guided by your own taste preferences or use cook-proven options. For example, they perfectly complement the taste of this dish:
poppy;
dried fruits (very different);
fresh apples;
cherry;
nuts;
cinnamon;
coconut flakes;
lemon zest;
vanilla.
Step by step recipes
Classic recipe with boiled potatoes from Daria Tsvek
Daria Tsvek is known in Ukraine for her precious recipes, which have long become famous all over the world. It is this woman who is the creator of the Lviv cheesecake in its traditional preparation, which is presented below.
Required Ingredients:
600 g of fatty homemade cottage cheese;
150 g sugar;
3 eggs, whites separate from yolks;
2 boiled potatoes;
100 g softened butter;
100 g raisins;
1 tbsp. l. lemon zest;
1 tsp lemon juice or a pinch of salt to beat the whites.
For glaze:
70 ml of water;
5 tsp vinegar (9%);
50 g of dark chocolate;
50 g of sugar.
Step by step cooking:
Preheat the oven to 180 degrees, immediately cover the form with baking paper. Cottage cheese and boiled potatoes must be ground in a meat grinder or in a blender to get a homogeneous mixture. The potatoes will soften the curd. The cottage cheese must certainly be homemade, fatty, soft, but without liquid. If it is damp, hang it in cheesecloth for a while to drain the liquid.

grated cottage cheese with potatoes

Curd-potato mixture - the basis of the classic Lviv cheesecake

Add butter and sugar to the mixture, knead well. Introduce the yolks and add the raisins and lemon zest.

curd and egg mass

Add butter, sugar, yolks and raisins with zest to the curd mass in turn

Whisk the whites, carefully separated from the yolks, until they become firm foam, adding 1 teaspoon of lemon juice or a pinch of salt. Then carefully combine them with the curd mass using a spatula.

curd mass with proteins

Whisk the whites and gently stir into the curd mixture

Place the dough in a mold and bake for about 30-40 minutes. We are waiting for the syrnik to cool down.
Making the glaze - for this we cook the syrup from water, vinegar and sugar. Add chopped or grated chocolate to the syrup, stirring continuously. When the chocolate has dispersed, remove the frosting from the stove and cool.

Lubricate the cooled cheesecake with warm glaze. Put in the refrigerator overnight or for about 7 hours.

classic curd cheese pan

Lviv cheesecake in chocolate glaze from Daria Tsvek
With raisins and nuts from Nina Niksya
Nina Nyxia, confectioner-artist and author of the popular culinary blog, considers Lviv cheesecake to be an ideal breakfast and suggests her own recipe. Here the potatoes are replaced with semolina, and the glaze is prepared with cream and butter.
For cheesecake:
1 kg of medium fat cottage cheese;
350 g sugar;
200 g butter;
9 eggs;
2 tbsp. l. decoys;
zest of one lemon;
2 tsp vanilla sugar;
raisins and nuts to taste.
For chocolate glaze:
55 g butter;
2 tbsp. l. Sahara;
5 tbsp. l. heavy cream or sour cream;
3 tbsp. l. cocoa powder.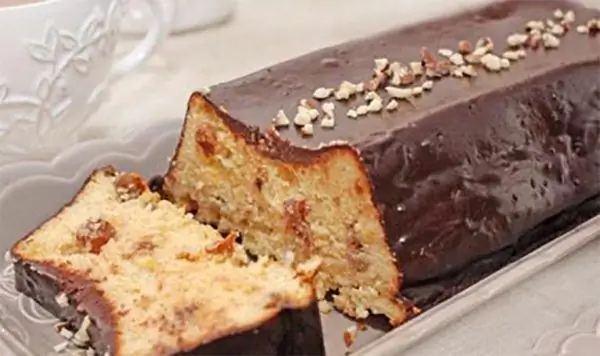 Lviv cheesecake from Nina Niksya is prepared with creamy chocolate glaze
Preparation:
Preheat the oven to 180 degrees (if the oven is with a fan, that is, convection, then up to 170 degrees).
Rub the cottage cheese through a sieve and add softened butter to it.
Grind the yolks with sugar and add to the curd mass, add the semolina.
Beat the mixture.
Rub the zest, add vanilla to it and add it to the curd mass along with nuts and raisins.
Next, beat the whites, adding a pinch of salt there, and slowly mix them into the curd mixture with a spatula.
Put the future cheesecake in a greased form and bake for 1 hour in a preheated oven.
While the curd is cooling, we make the glaze - mix all the ingredients for it and cook until the consistency becomes smooth.
Cover the Lviv cheesecake with glaze and put it in a cold place overnight.
With poppy seeds
For cheesecake:
750 g of cottage cheese;
one and a half glasses of sugar;
4 eggs;
4-5 Art. l. starch;
1/3 lemon zest;
60 g butter;
2 tsp vanilla sugar.
For the poppy layer:
1 glass of poppy seeds;
2 tbsp. l. Sahara.
For chocolate glaze:
100 g of chocolate;
3 tbsp. l. milk;
1 tbsp. l. butter.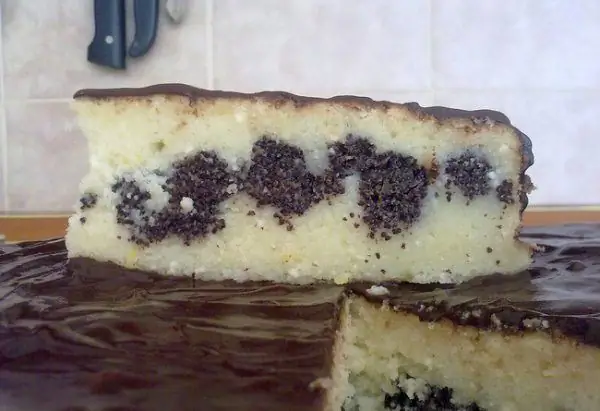 Ready cheesecake with poppy seeds
Preparation:
Pour boiling water over the poppy and let it cool. Drain off excess water if necessary. Grind poppy seeds with sugar.
Beat cottage cheese with yolks, 1 cup sugar and pre-softened butter. Also add lemon zest, starch, vanilla sugar.
Beat the whites, gradually adding half a glass of sugar.
Preheat the oven to 180 degrees without convection (170 - with convection).
Two tbsp. l. mix proteins into the poppy seeds with sugar, and the remaining proteins into the curd mass.
Grease the pan with butter and sprinkle with semolina on top. Pour half of our curd mass into it and smooth. Then put the poppy layer, not reaching the edges of the form.
Put the remaining mass like this: some - on the edges, and the rest - in the center, closing the poppy layer.
Bake for 1 hour.
Prepare the icing. Melt the chocolate in a water bath, adding butter and milk. The mixture should not be brought to a boil; it should just become smooth. When the glaze has cooled down a little, cover the cooled syrnik with it.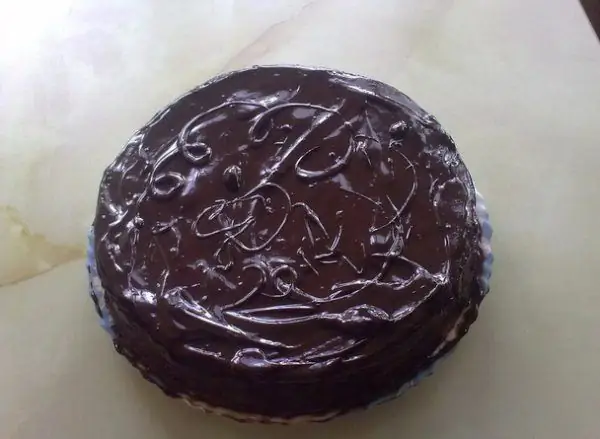 Glazed cheesecake can become a real work of culinary art
Hostess tips and reviews
Video: we cook Lviv cheesecake in a slow cooker
Video: all the secrets of the correct cheesecake from Alla Kovalchuk
Lviv cheesecake is a hearty, healthy and tasty dish that can be an ideal breakfast. The classic composition of ingredients can be easily supplemented with various additives according to your taste. You can cook this dish both in the oven and in a slow cooker. Try to cook Lviv cheesecake, perhaps you will invent a new recipe. Bon Appetit!
Popular by topic