Table of contents: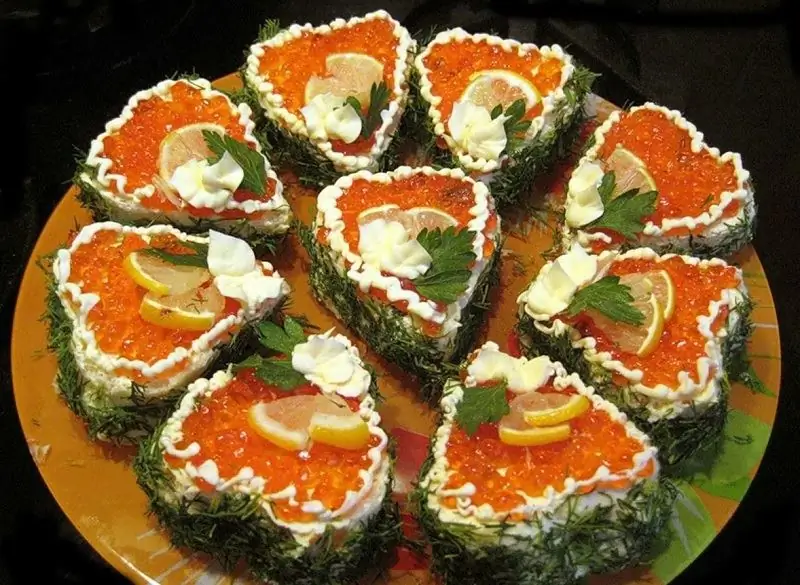 Video: Original Appetizers With Red Caviar
3 appetizers with red caviar to delight guests

Surprising someone with unusual dishes in our time is not easy. But we want to offer you three original appetizers for the festive table that will delight even the most demanding guests.
Eggs stuffed with caviar and cod liver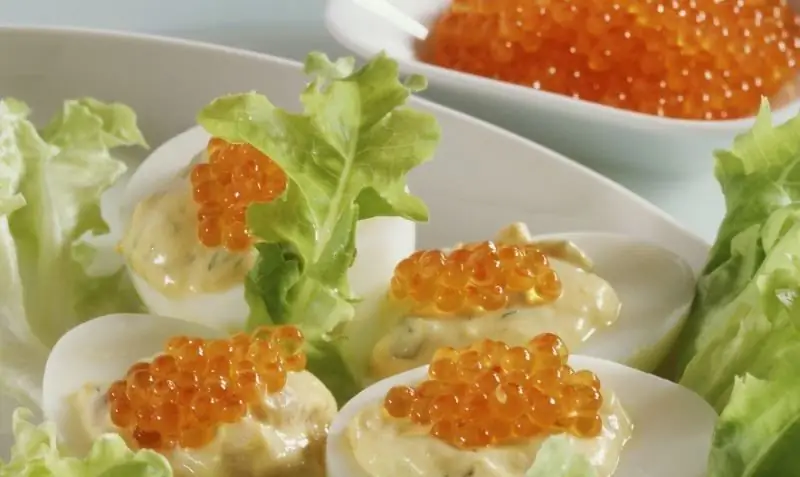 It is not necessary to use two types of caviar in this recipe. You can stop at any or even replace it with a slice of lightly salted salmon.
Ingredients:
10 large boiled eggs;
1 jar of cod liver oil;
200 gr. any grated hard cheese;
mayonnaise, salt, ground black pepper to taste;
red and black caviar for decoration;
half a bunch of dill, lettuce for decoration.
Preparation:
For a snack, take a large dish, evenly distribute lettuce leaves on the bottom.
Cut the eggs lengthwise into equal halves and remove the yolks.
In one container, mash the yolks, mayonnaise, cheese, cod liver with a fork or with a blender. Drain the oil from it first.
Salt and pepper the mixture, knead everything well.
Fill the grooves of the eggs with the resulting filling.
Decorate the tops with caviar and small sprigs of dill.
Place the halves of the eggs on one level on a platter with lettuce leaves.
Herringbone sandwiches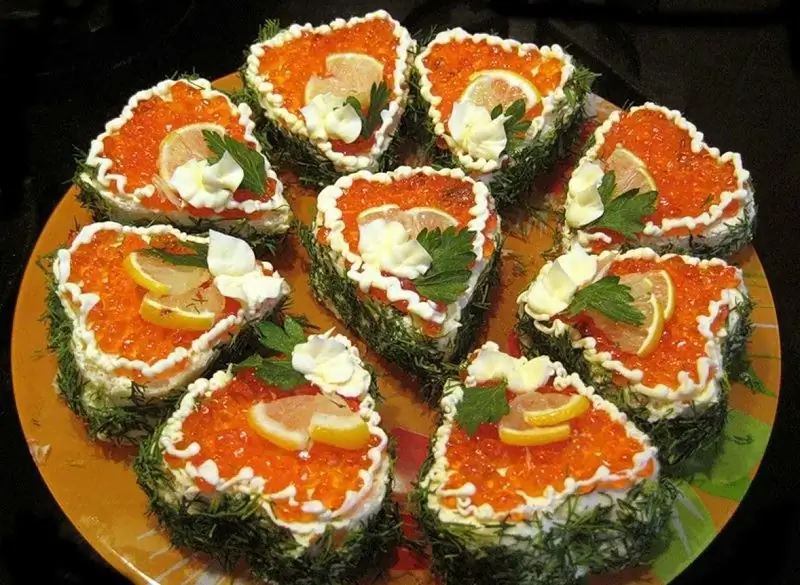 Such an appetizer is perfect for the New Year's table, but for other holidays, feel free to prepare such sandwiches, only changing the shape of the bread.
Ingredients:
fresh loaf;
softened butter;
a bunch of dill;
1 jar of red caviar.
Preparation:
Cut the loaf into 1-1.5 cm slices.
Using a special mold or by hand with a knife, cut the Christmas trees from the slices.
Oil one side and sides of the workpiece.
Chop the dill finely and dip the oiled sides of the bread in it.
Spread the caviar evenly on top and place the sandwiches on a flat dish.
Amanita sandwiches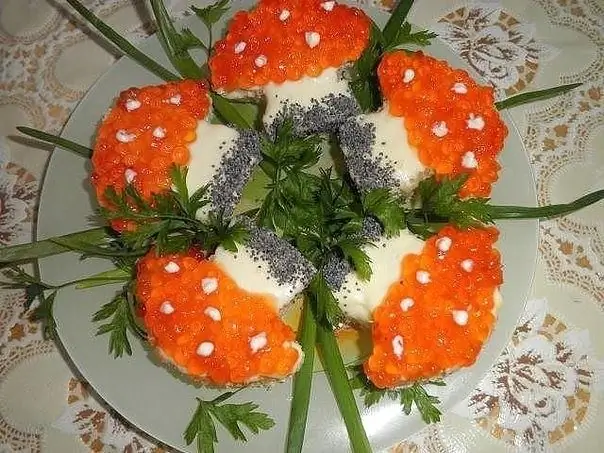 In this appetizer, we also need a loaf. The mushrooms will be very similar to real fly agarics, which are not dangerous to eat.
Ingredients:
loaf;
2 packs of processed cheese or 1 "tray";
1 jar of red caviar;
any greens, mayonnaise and poppy seeds for decoration.
Preparation:
Cut the loaf into 1-1.5 cm slices.
Cut out future fly agarics from each piece with a mold of a mushroom or a knife.
Brush one side of each mushroom with an even layer of melted cheese.
Decorate the mushroom caps with red caviar.
On top of the hats, apply mayonnaise in dots, imitating the real colors.
Dip the bottom of the legs into the poppy. This will be the "ground".
Place the mushrooms on a large snack plate, garnish with herbs and serve.
Try preparing these creative snacks for your arrival. They will undoubtedly be loved by everyone, especially children for their interesting presentation.
Popular by topic