Table of contents: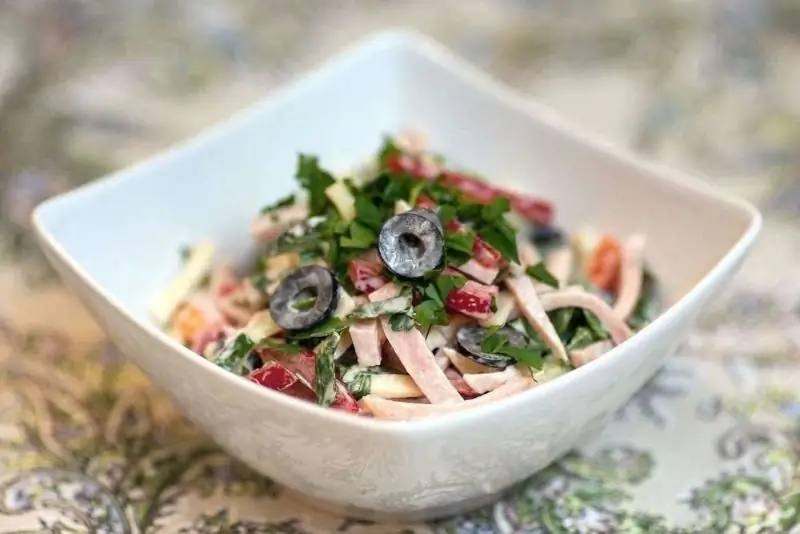 No oil and mayonnaise: 5 amazing salads with an unusual dressing

The usual salad dressings based on vegetable oil or mayonnaise have long been on edge, and their calorie content harms the figure. These same amazing salads with unusual dressings are perfect for a holiday or instead of dinner, even if you are on a diet.
Shrimp and pineapple salad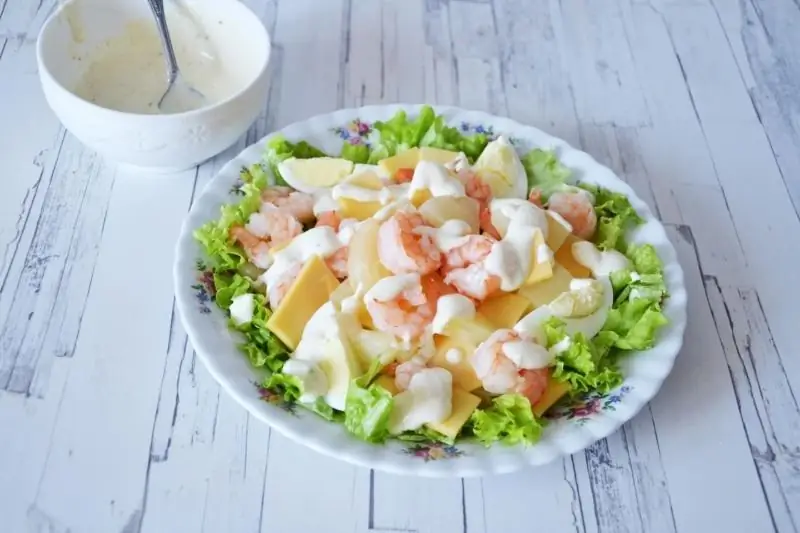 For this salad, try to buy large shrimp in shells - they have a rich taste and juiciness. Small and peeled, they are much drier and tasteless.
Ingredients:
500 g shrimp;
1 can of canned pineapple;
150 g of hard cheese;
juice of half a lemon;
a bunch of lettuce leaves or a package of salad mix;
fat-free sour cream or natural yogurt for dressing;
salt and pepper to taste.
Preparation:
Boil water and place the shrimp in it. Cook for no more than a minute, then discard in a colander, let cool and peel off the shells.
Drizzle the shrimp with lemon juice and marinate for 10 minutes.
At this time, drain the syrup from the pineapple and chop the large pieces into smaller pieces. You can take fresh fruit, then the salad will turn out to be more dietary.
Pick large lettuce leaves into a large bowl. Leave the smaller ones intact.
Add shrimp and pineapple to these.
Grate the cheese on top on a coarse grater or use a vegetable peeler to make cheese flakes.
Season with salt and pepper, season with sour cream or yogurt and mix well.
Warm salad "Funchoza with vegetables"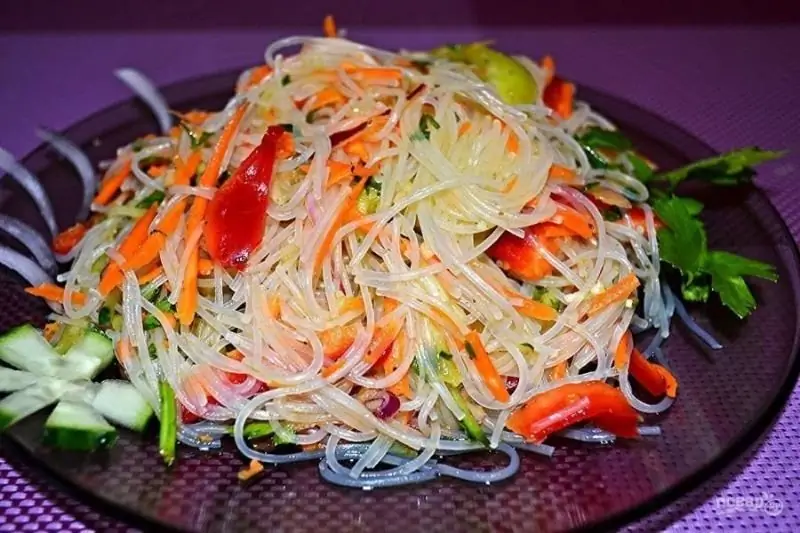 This warm, satisfying yet light dish will become your favorite during the cold season. Thanks to soy sauce and sesame seeds, it has a characteristic Asian flavor.
Ingredients:
200 g dry funchose;
1 red bell pepper;
1 onion;
1 medium carrot;
1-2 fresh cucumbers (can be replaced with zucchini);
2 tbsp. l. soy sauce;
salt, sesame seeds, black pepper, dried garlic to taste;
a few feathers of green onions;
1 tsp vegetable oil for frying vegetables.
Preparation:
Boil funchose as directed on the package. Usually it is poured with boiling water for 10 minutes and then washed with cold water.
Cut the peppers into cubes, the onions into half rings, and grate the carrots and cucumber on a Korean grater or chop thinly.
Heat oil in a deep frying pan and sauté vegetables over low heat. They should remain slightly crunchy and not soft.
In a large bowl, combine funchose, vegetables, soy sauce and seasonings.
Slice the green onions diagonally into feathers and sprinkle over the snack.
Caesar salad"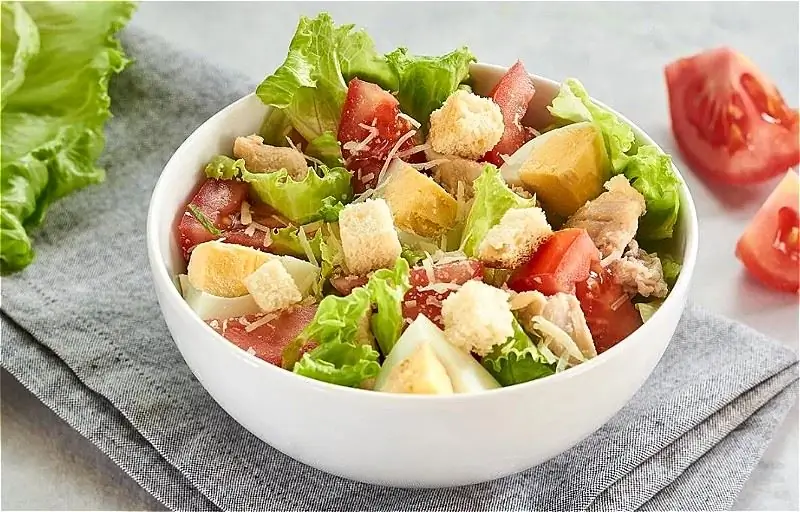 The famous version of the classic "Caesar" contains a fairly high-calorie sauce and parmesan cheese. But the diet version of the salad lacks these heavy ingredients. It does not spoil the taste, but it gives the dish a "zest".
Ingredients:
200 g chicken fillet;
a large bunch of lettuce leaves or a small head of iceberg;
100 g cherry tomatoes;
100 g of fresh cucumbers;
3 boiled eggs;
2 cloves of garlic;
2 slices of whole grain bread;
100 g of natural yogurt;
2 tbsp. l. lemon juice;
½ tsp mustard;
salt to taste.
Preparation:
Boil the chicken fillet or grill it. Cut it into cubes.
Grind the bread into cubes and dry for 5-10 minutes in the oven at 200 ° C.
Divide tomatoes in half, cucumbers in half rings, eggs in cubes.
Assemble the salad: Tear the salad with your hands at the bottom of a wide dish, add chicken, tomatoes, cucumbers, eggs evenly.
For dressing, combine yoghurt, mustard, lemon juice, salt and pour over the Caesar mixture.
Decorate the top with crackers.
Salad with meat and tomatoes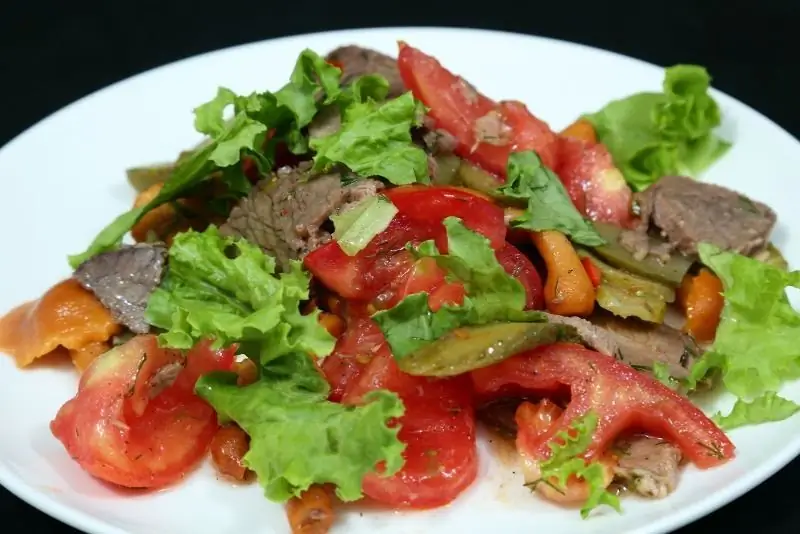 The secret of the unusual taste of this dish is the preliminary marinating of the meat in soy sauce. Such an appetizer can be both the main warm dish on the festive table and a chilled salad.
Ingredients:
200 g beef tenderloin;
200 g of tomatoes;
½ onion;
3 cloves of garlic;
a bunch of parsley;
3 tbsp. l. soy sauce;
juice of half a lemon;
salt, black pepper to taste;
1 tsp vegetable oil for frying.
Preparation:
Chop the beef along the grain and marinate it with soy sauce, chopped garlic and onions for 30 minutes.
At this time, cut the tomatoes into slices and chop the parsley.
Heat oil in a deep skillet and fry the meat over high heat for 10 minutes. It must be constantly stirred so that it does not burn. Then reduce heat to low, add a little water, cover the pan with a lid and let simmer for 30-40 minutes.
When the meat is cooked and cooled down a little, mix it in a salad bowl with tomatoes and parsley, salt, pepper and season with lemon juice.
Salad with tomatoes and olives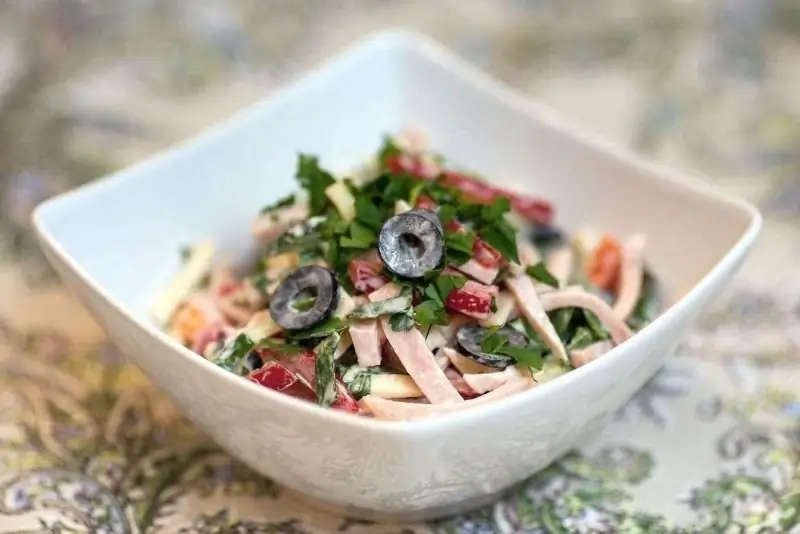 This dish is a real Mediterranean guest on your table. Such a salad can be made at least every day - it will not become boring. And it prepares very simply and quickly.
Ingredients:
200 g lean ham;
150 g feta cheese or feta;
1 can pitted olives;
150 g cherry tomatoes;
1 tbsp. l. balsamic vinegar;
½ tsp dried provencal herbs.
Preparation:
Cut ham and cheese into cubes, olives and tomatoes - in half.
Put all the ingredients in a salad bowl, season with balsamic vinegar and herbs, mix well. You don't need to salt, because the cheese is salty enough.
You can eat tasty food and receive guests even on a diet. Such salads will perfectly fit into the diet of proper nutrition, will become sources of complete protein. At the same time, you will not get extra calories.
Popular by topic