Table of contents: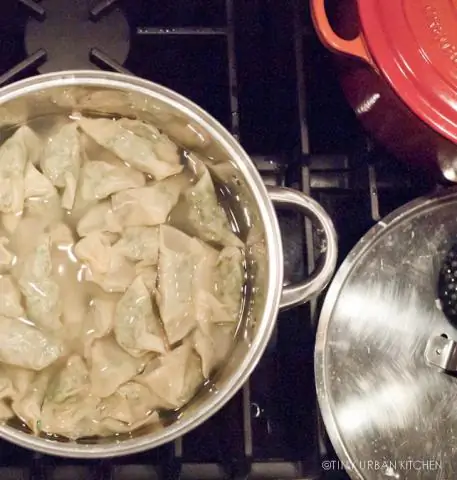 Video: How And How Many Minutes To Cook Dumplings After Boiling Water: Step-by-step Instructions For Cooking In Various Ways With Photos And Videos
Master class: we cook the most delicious dumplings
Oh, how much ridicule goes to bachelors who supposedly eat only dumplings because of their inability to cook! Meanwhile, it is not an easy task to cook tasty, aromatic and non-sticky dumplings correctly. But from now on you will cope with it without any difficulty, because we are going to share with you all the secrets of cooking this delicious dish.
Content
1 What do dumplings and Homer have in common?
2 A few words about the filling

3 How to cook and how much - 5 ways to make perfect dumplings

3.1 Shop
3.2 Home
3.3 In the microwave
3.4 In a multicooker
3.5 In a double boiler

4 How to prevent dumplings from sticking together
5 What to cook with?

6 What to serve with?

6.1 Photo Gallery: Submission Methods

7 Tasty Bonus: Fried Japanese Gyoza

7.1 Video: dumplings baked in a pot
What do dumplings and Homer have in common?
The history of "bread ears" - and this is how, according to one version, the word "dumpling" should be translated - is rooted in such impenetrable depth of centuries that it is not possible to trace its beginning. If only 11 Greek cities argued for the right to be called the homeland of Homer, then entire nations could compete for the honor of being the inventors of dumplings! And there would be much more of them. Its national dish, consisting of pieces of thinly rolled dough with juicy meat filling inside, is in Japan, Italy, Germany, Georgia, Uzbekistan, Mongolia, Israel … True connoisseurs find descriptions of mouth-watering "dough bags" even in ancient Greek treatises and Roman writers!
However, according to the most common version, the Chinese were the pioneers of this dish. And they also initiated the triumphant march of their creation around the world, sharing the idea of an appetizing and easy-to-store dish with neighboring nations. Soon they were eating dumplings by both cheeks in Siberia, then in the western part of Russia, in Europe …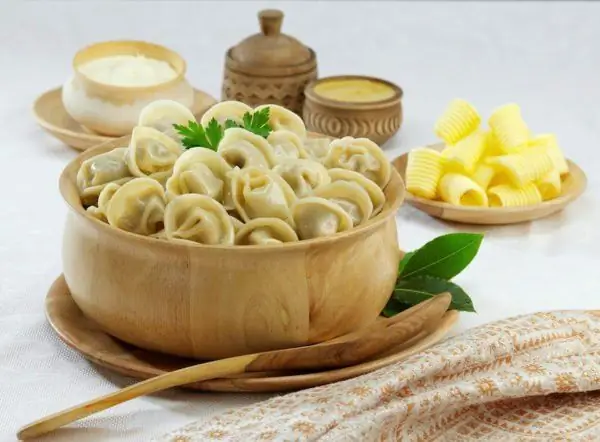 They say that dashing ataman Ermak Timofeevich loved to feast on dumplings
True, not everyone agrees with this version. There are culinary historians who have traced the path of meat delicacies to Russia from the Komi people, Don Cossacks, Tatars, Great Bukharia and even Scythian vagrants. However, is it so important who made the first dumpling? The main thing is that today nothing prevents us from going to the kitchen (or the store), taking a pack of frozen pieces of dough that are muffled by tapping each other and turning them into a breathtaking treat, the smell of which will quickly reach all the household. Let's try?
A few words about the filling
Let's take a couple more minutes to talk about which filling is considered the most successful for dumplings. True, it will not be easy to do this - the choice is very rich.
In Russia, for example, this dish has long been molded with different types of meat. Moreover, not only traditional for us beef, pork, lamb or chicken with turkey were used, but also elk, bear meat, as well as meat of other wild forest animals. Of course, modern housewives can have quite understandable problems with bear meat. But the idea to make a juicy mix of beef and pork will be more than successful: pork will add juiciness to dry and tough beef, and that, in turn, will make pork less fatty. Well, if you are not afraid of calories, mix the minced mutton with a piece of fat tail fat: both the aroma and the taste will come from the "lick your fingers" series. They add to the meat filling and fried onions, and vegetable slices, and herbs.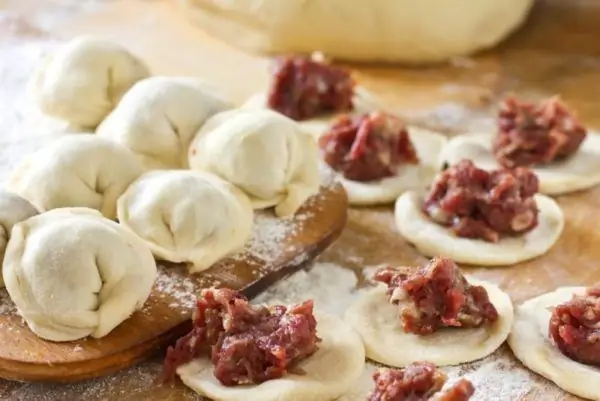 Onions and garlic will make the filling taste rich and spicy
Don't like meat? Take an example from Siberians and Chinese, who often stuff dumplings with fish. Or from the Japanese, whose menu contains original fried dumplings stuffed with shrimps.
Are you a staunch vegetarian? Don't worry and there will be a treat for you. Try, for example, dumplings with potatoes, sauerkraut, mushrooms, spinach or curd cheese mixed with tomato slices. Unusual? But how delicious!
How to cook and how much - 5 ways to make perfect dumplings
Usually, cookbooks say: Bring water to a boil, toss dumplings in it and cook until tender. It is a pity, an inexperienced hostess, armed with such instructions, can easily end up with either firmly stuck together or boiled lumps of dough, the filling of which will freely float in the saucepan. And besides, what does it mean - until ready? And when will it be more correct to salt the water - at the beginning or at the end of cooking? And why should we limit ourselves to a stove and a bulky vessel, if technical progress has presented us with so many convenient new products?
Shop
If you decide not to bother yourself with sculpting and just brought your favorite pack of dumplings from the nearest supermarket, you can immediately start cooking. A separate charm of this dish is that it does not need to be defrosted: you do not have to drown out the hungry rumbling in the stomach, waiting for the semi-finished products to thaw.
You will need:
1 kg of dumplings;
3-4 liters of water;
butter - 1-2 tbsp. l.;
black pepper, bay leaf and any other spices;
salt.
Cooking.
Pour water into a deep saucepan. On average, it should be 3-4 times more than the dumplings that you are going to cook.

Pot of water

A kilo of dumplings will require at least 3 liters of water

Salt the water. And if you want to add flavor to the finished dish, throw a few black peppercorns, bay leaves and other spices you like after the salt.

Salt is poured into the pan

If there is salt in the filling, skip this step.

Let the water boil.

Boiling water in a saucepan

The fire should be neither large nor small - medium

One at a time, but as quickly as possible, send the dumplings to the pan. If you delay this process too long, those that got into the water first will cook before the last ones are ready. And if you knock over the whole pack at once, you have to wait until the cooled water heats up again and the dumplings have time to turn sour.

Dumplings in a saucepan

Finished dumplings begin to float to the surface

Let the water boil again, stirring occasionally with a spoon or slotted spoon to prevent them from sticking to the bottom of the pot or to each other. And then all that remains is to wait another 3-5 minutes (depending on the size of the semi-finished products and the thickness of the dough) so that the dumplings begin to float to the surface. Catch them with a slotted spoon, put them on a dish, pour over sour cream, melted butter or tomato sauce and serve.

Dumplings with sour cream

Bon Appetit!
Home
Homemade dumplings are cooked in the same way as store-bought dumplings, but with some nuances.
Since the dough prepared with one's own hand is usually denser, and not every housewife knows how to roll it out in a factory way, the cooking time of frozen dumplings should be increased to 8–10 minutes after boiling.
But if you didn't freeze your semi-finished products, but decided to cook them right after molding, the cooking time will be reduced to 2-3 minutes.
Homemade dumplings are usually stored sprinkled with flour. If you do this too, try to gently shake it off before boiling; this will make the dough less sticky.
In the microwave
If you don't have the time and inclination to mess around with a saucepan and boiling water, use a microwave. It is much more convenient. And don't forget to stock up on a few green onion feathers, you'll need them!
You will need:
200 g of dumplings;
1-2 glasses of water;
green onions;
sour cream or butter - to taste;
salt, spices.
Cooking.
Place the dumplings evenly on the bottom of a suitable plate.

Dumplings are poured into a glass bowl

It is better to use special utensils for the microwave

Pour boiling water into a plate. The dumplings should be about 2/3 immersed in it. However, there are cooks who vigilantly make sure that the future food is completely covered with water - they say, so it will not have a chance to turn out harsh. In short, it's a matter of taste.

Dumplings in water

A lot of water is not scary, the main thing is that not enough

Cover the dish with a glass lid or saucer and put it in the microwave. Set the timer first for 5 minutes at maximum power (at least 750 watts).

Dumplings in a container under a lid

If you don't have a special saucepan, cover the container with a saucer

Chop the green onion.

Chopped green onions on a board

Dill, parsley and other herbs can be added to the onion

Wait until the microwave signal sounds, take out a bowl of dumplings, stir them with a spoon, add salt and spices and sprinkle with herbs.

Dumplings with green onions

And additional flavors and vitamins

Put the covered dish back in the microwave and start the timer again at the same time.

A container with dumplings in the microwave

For small dumplings, 3 minutes is enough

Transfer the prepared dumplings to a plate, pour over with butter and serve with sour cream or any sauce.

Dumplings with sour cream and onions

It will be delicious!
In a multicooker
Another convenient way to enjoy your favorite dish without extra effort.
You will need:
dumplings - 400 g;
water - 200 ml;
sour cream - 100 ml;
hard cheese - 60 g;
butter;
salt, spices.
Cooking.
Place the dumplings in the bottom of the multicooker bowl.

Dumplings at the bottom of the multicooker

It is better if the dumplings are frozen

Mix 1 part sour cream with 2 parts water, season with salt, pepper and pour over prepared dumplings.

Dumplings covered with a mixture of water and sour cream

Spices can be anything, but be careful with salt - especially if your cheese is salty

Set the "Steam" mode and start the multicooker.

Multicooker panel

Some housewives prefer the "Baking" mode

Grate the cheese on a fine grater.

Grated cheese next to a grater

The amount of cheese can be increased or decreased to taste

After 10–20 minutes (depending on the multicooker model), open the lid and remove the dumplings from the water using a slotted spoon. Add oil to the finished dish, sprinkle with grated cheese and start eating.

Dumplings with cheese

On hot dumplings, the cheese will have time to melt slightly
In a double boiler
If you want your dumplings to keep their perfect shape and not boil over, use a double boiler. True, it is not suitable for those who like the most tender, soft food - steam, unlike water, can give you a dry treat.
You will need:
dumplings - 400 g;
water - 150 ml;
salt, spices.
Pour water into the steamer.

Multicooker with water

The beginning is quite standard

Lubricate the bottom of the bowl with oil.

A bowl of a double boiler is oiled

Butter prevents dumplings from sticking

Spread the dumplings along the bottom, being careful not to touch the sides, put the bowl with all the contents in place and turn on the steamer.

Dumplings in a double boiler

If you have a "multi-storey" steamer, remember: the dumplings will cook faster on the first level

Wait 25-30 minutes if using freshly made dumplings, and 40-45 if using frozen ones.

Multicooker timer

Time depends not only on the condition of the dumplings, but also on their size

Put the finished meal on a plate immediately (in a cooled double boiler, the dumplings will dry out quickly), pour with oil, salt and pepper. Serve with any sauce.

Plate with dumplings on a bright background

Such dumplings are already salted on the plate
How to prevent dumplings from sticking together
It is terribly unpleasant when, instead of a slide of even, shiny, like one-to-one matched dumplings, you get something sticky and lumpy. And even if the shape of the finished product does not affect the taste, it will no longer deliver the expected pleasure. How to avoid this?
Add 1–2 tsp into the cooking water. vegetable oil.
If you are cooking for a large number of eaters, cook the dumplings in portions. The tighter it is in the pot, the more likely it will stick together.
Do not try to put dumplings in cold water and then put them on fire. So you definitely won't get the perfect treat. Take your time, wait until it boils.
Most often, dumplings stick to the bottom immediately after being submerged in water. Take preventive action by gently stirring with a spoon.
Each time, pour melted butter over the ready-made and served food. Or, simply place a piece of butter on a hot, steaming slide - it will melt by itself.
What to cook with?
When cooking dumplings, most housewives make do with a "minimal cook's set" - black pepper and bay leaves, and sometimes even just salt. But this is not our method. To make yourself known as the best culinary specialist in the world, take on board a couple of new fillers for the saucepan with the future delicacy. Believe me, it will greatly benefit from this.
It turns out that cooking and serving dumplings is an extremely exciting experience!
Dumplings can be made even tastier if:
instead of water, boil them in beef or chicken broth;
add a whole onion or roast carrots and onions to the pan;
pour over the finished dish with butter mixed with garlic passed through a press, and sprinkle with chopped dill.
What to serve with?
Ketchup and sour cream are considered traditional spices for dumplings. But if you are a creative person, you will not stop there. Moreover, there are many other curious options for feeding "ears of bread".
If you boiled dumplings in broth, put them on the table with it. A portion of fragrant dough pieces, 1-2 scoops of rich broth, a little greens - and the result will surpass all expectations.
Some people eat dumplings with … salad! Chop cucumber and cabbage thinly, add chopped green onions, dill, sprinkle with salt and spices. A little mayonnaise or sour cream and the original appetizer is ready.
Fans of spicy food will like dumplings with adjika, mustard or vinegar, in which black pepper was previously poured.
Even butter can be spiced up by seasoning it with grated horseradish and herbs.
And of course, do not forget about soy sauce - the easiest way to diversify the taste of a familiar dish.
Photo gallery: filing methods
Dumplings with soy sauce

Soy sauce loved by many
Dumplings with cranberries

An old recipe advises stuffing dumplings with duck and serving with cranberries
Dumplings in broth with herbs

Fragrant broth will make dumplings even juicier and tastier
Dumplings in a bowl with sour cream

Almost everyone will like the classic
Dumplings on skewers

This is a really original way of serving
Dumplings with sauce

The choice of sauce depends entirely on you
Dumplings with ketchup

An interesting option is to serve dumplings on lettuce leaves
Dumplings with salad

Dumplings with vegetables ?! Try it!
Tasty bonus: fried Japanese gyoza
To surprise your family with this extremely interesting and tasty dish, you will need:
flour - 300 g;
boiling water - 250 ml;
pork or ground beef (or a mixture of both of these types of meat) - 200 g;
young carrots - 2 pcs.;
green onions - a small bunch;
garlic - 2-3 cloves;
chili pepper - 2 pcs.;
cilantro - a bunch;
fresh ginger - 1 tsp;
salt;
vegetable oil for frying;
soy sauce - optional.
Cooking.
Sift flour into a bowl and add boiling water to it. Do this slowly, in portions, so as not to overdo it with water.

Water is poured into flour

Watch the consistency of the dough, it should not turn out to be too liquid

Knead the dough, first in a bowl and then on a floured table.

Dough kneading process

You won't have to mess around for a long time: 5-10 minutes, and you're done

Transfer the finished dough to a cutting board, cover with a tea towel and let rest for 30-40 minutes.

Dough under the towel

Let the dough lie down

Roll the dough into a layer and cut into circles using a mold.

Preparing dumplings dough

No molds - take a glass

Cut the carrots into very thin strips.

Carrot straws

The straws should be as thin as possible

Chop all other vegetables and herbs - cilantro, green onions, garlic, ginger and hot peppers as you please.

Chopped and grated vegetables

Vegetable mix may be different

Combine all prepared ingredients with minced meat and knead well. If you are not planning on using soy sauce, which itself is quite salty, you can add salt at this stage.

Minced meat on dumplings

Knead the minced meat until smooth

Place a piece of minced meat on each circle of dough and mold the dumplings as you usually do.

Minced meat on a mug of dough

Make sure that the filling does not fall out over the edges!

Pour oil into a skillet and heat it up.

Oil in a frying pan

A Japanese wok is an ideal choice.

Fry the dumplings until golden brown - on average 2-3 minutes on each side - and then pour 100-150 ml of water into the pan. Cover with a lid and keep on medium heat until the water has completely evaporated.

Dumplings in a frying pan

If the gyoza is lightly rolled in flour, the crust will be more pronounced.

Serve hot gyoza, sprinkle with chopped herbs. The ideal companion for oriental dumplings is, of course, soy sauce.

Fried dumplings with sauce

Serve gyoza with soy sauce
Video: dumplings baked in a pot
Have you already seen that making dumplings really tasty is not as easy as it seems? And the fact that this dish can be both varied and original? Great, that means another recipe has fallen into your piggy bank of culinary ideas. What are you going to cook first - fried dumplings, boiled, cooked with cheese? But it doesn't matter! We are sure that whatever it is, you will cope with the task with a bang.
Popular by topic