Table of contents: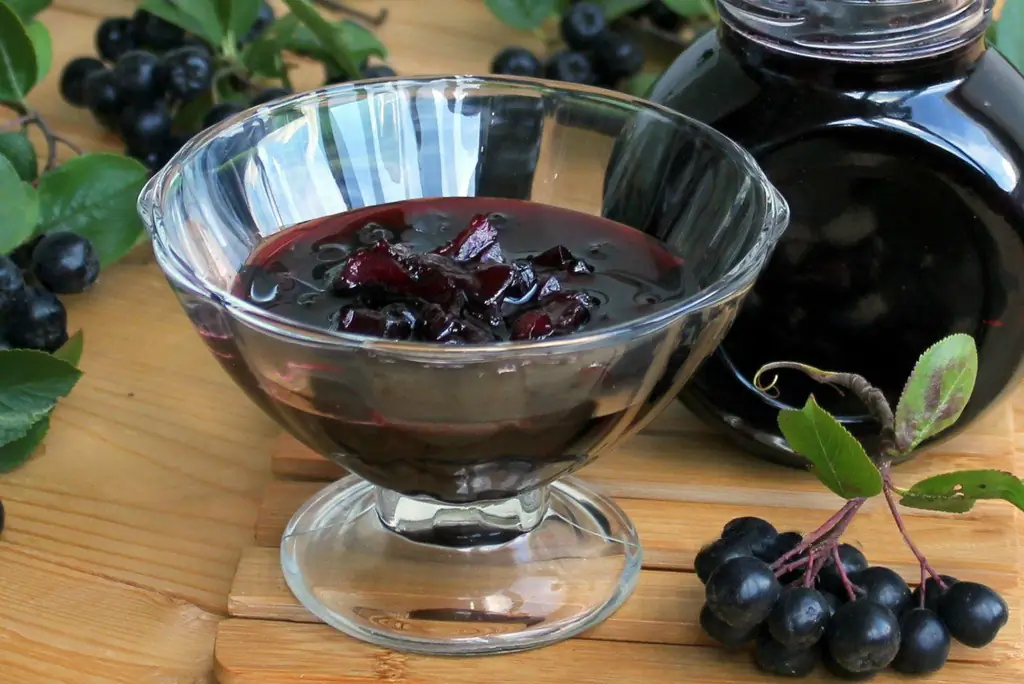 Video: Chokeberry Jam: The Best Recipes + Video
Chokeberry jam: delicious and healthy recipes

Few people love chokeberry, even despite its undeniable health benefits. This berry has a peculiar, bitter and astringent taste. Most often, blackberry is used to prepare alcoholic tinctures. And let's learn how to make delicious jam out of it, which will be loved by everyone, especially children!
Content
1 Benefits and features of chokeberry

1.1 Table: composition and energy value
1.2 How best to harvest for the winter

2 The main components of chokeberry jam
3 Gallery of additional ingredients

4 Recipes

4.1 Classic version
4.2 Delicious combination: blackberry, lemon, apples and nuts
4.3 Quick jam-five minutes
4.4 Dry Kiev mountain ash and plum jam
4.5 Zucchini recipe
4.6 "Field of Miracles"
4.7 Quick dry blackberry jam (without cooking)
4.8 Jam without sugar

5 Video about making chokeberry jam without cooking
6 What can you combine with?
7 Hostess reviews
The benefits and features of chokeberry
The valuable qualities of chokeberry can be enumerated for a long time. It is very important for women that the fruits of this plant are dietary and contain only 47 calories per 100 g, which means they help to keep the figure in good condition. But besides this, chokeberry is a source of a large amount of vitamins, minerals and other useful substances that our body needs.
Table: composition and energy value
Element
Substance content per 100 g of product
The nutritional value
Calories
55 kcal
Protein
1.5 g
Fats
0.2 g
Carbohydrates
10.9 g
Alimentary fiber
4.1 g
Organic acids
1.3 g
Water
80.5 g
Mono- and disaccharides
10.8 g
Starch
0.1 g
Vitamins
Vitamin PP
0.3 mg
Beta carotene
1.2 mg
Vitamin A (RE)
200 mcg
Vitamin B1 (thiamin)
0.01 mg
Vitamin B2 (riboflavin)
0.02 mg
Vitamin B6 (pyridoxine)
0.06 mg
Vitamin B9 (folic acid)
1.7 mcg
Vitamin C
15 mg
Vitamin E (TE)
1.5 mg
Vitamin PP (Niacin

Equivalent)

0.6 mg
Chemical elements
Calcium
28 mg
Magnesium
14 mg
Sodium
4 mg
Potassium
158 mg
Phosphorus
55 mg
Iron
1.1 mg
In addition, the content of phenolic flavonoids (anthocyanins) gives the berries a black color, shielding them from exposure to sunlight, and contributes to their astringent taste.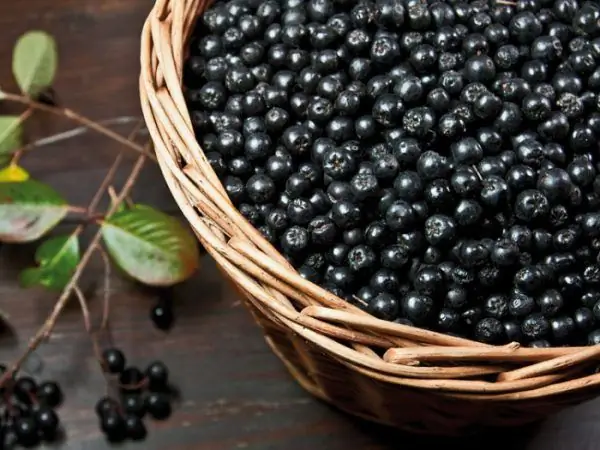 Chokeberry - a source of vitamins and nutrients
If you regularly eat chokeberry, you will notice that you are getting younger right before your eyes. This applies not only to appearance, but also to the general condition of the body. This wonderful berry is an excellent prophylactic agent against inflammation, bacterial infections, diabetes, nerves and even cancer! And recent studies have shown that the fruits of chokeberry will significantly enhance the effect of treating all these diseases.
For those who want to lose weight, especially after winter, the chokeberry will be a real discovery. It has a general balancing effect on the body, accelerates metabolism and provides you with all the necessary vitamins during this period of the year. This plant has a very interesting feature: it prevents the accumulation of fat, in particular at the level of the abdomen.
How best to harvest for the winter
In summer and early autumn, when the black chokeberry ripens, its fruits can be eaten immediately, picking them off the bush and washing them in running water. Fresh berries are stored in the refrigerator for no more than a week, so you need to decide how you will process them in order to store them for the winter.
Chokeberry can be prepared for the winter:
jam or jams;
the juice;
compote;
wine;
tincture;

frozen berries.

Chokeberry jam

Jam is the best way to prepare chokeberry for the winter
In this article, we will tell you about making chokeberry jam. In winter, you can add it to tea, compote, as well as topping in pies and muffins.
The main components of chokeberry jam
The standard set of products for classic jam is as follows:
chokeberry berries;
granulated sugar;
water.
Since the fruits of the chokeberry have a peculiar bitter, astringent taste, a lot of sugar will be needed - about 1.5 kg per 1 kg of berries.
Many housewives recommend blanching black chokeberries before making the jam. This is necessary in order for the dense shell to soften, burst and let sugar syrup inside the fruit.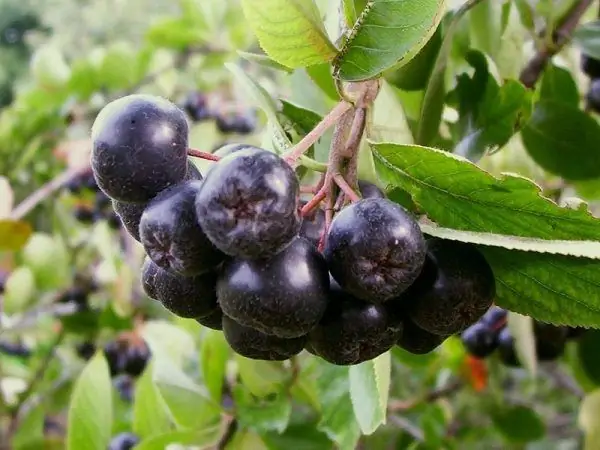 Choose strong, dense and clean fruits for jam
Agree, it would be boring to make jam only from chokeberry. We love to experiment with tastes so much! So chokeberry perfectly coexists in preparations for the winter with many berries, fruits, spices and other products. You can combine it in jam with:
apples;
oranges and lemons;
nuts;
plums;
zucchini;
mint, lemon balm and other herbs.
We will present to your attention several different recipes for making such a jam. They will become a kind of "starting point" for your further experiments, because chokeberry is so good in tandem with other products that it's a sin not to try as many options as possible! In addition to taste and aroma, such combinations acquire additional benefits for the body.
Gallery of additional ingredients
Citrus

Citrus
Carnation

Spicy carnation buds
Walnuts

Walnut kernels
Raisins

Sweet raisins
Zucchini

Zucchini
Cinnamon

Cinnamon sticks
Red rowan

Red rowan
Plums

Plums
Apples

Fresh apples
Recipes
We'll start with the classic cooking option. Such jam has a beneficial effect on the state of the whole organism, increases immunity.
Classic version
Difficulty level: easy. Cooking time: 40 min.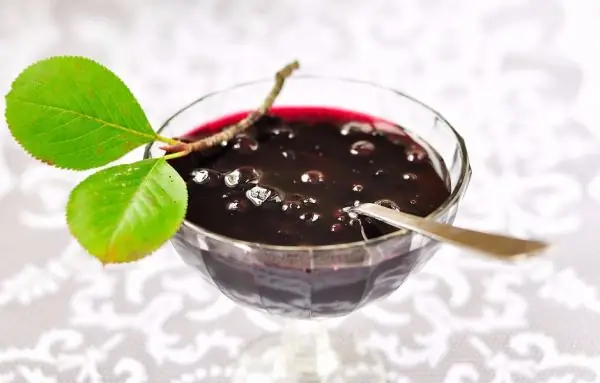 Classic chokeberry jam
Ingredients:
1 kg of chokeberry;
1.3 kg of sugar;
1 glass of water.
Cooking process:
Take a saucepan of a suitable size, pour water into it and add sugar. Stir until completely dissolved. For this, the water can be slightly warmed up.
Rinse the berries, remove the stalks from them. Place in a saucepan and immerse in boiling water for 5-7 minutes to blanch.
Boil the syrup and add the blanched berries to it. Cook for 10-15 minutes over medium heat. After that, remove the pan from the heat and leave the mixture to cool down to room temperature for 3-4 hours.
Put the pot with the future jam on the fire again, bring to a boil and simmer for 15 minutes.
Distribute the jam immediately into the jars, seal with lids and leave to cool at room temperature. Banks must be cleaned and sterilized.
Such jam is equally well stored in a room and in a dark, cold room, for example, a basement.
Delicious combination: blackberry, lemon, apples and nuts
There are so many vitamins in this jam that doctors recommend that you feast on them after serious long-term illnesses and undergoing operations.
Difficulty: medium. Cooking time: about 70 minutes.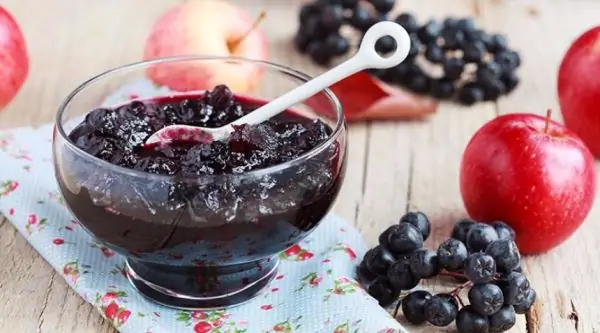 Apples are a great addition to chokeberry jam
Ingredients:
chokeberry berries - 1 kg;
sugar - 1.5 kg;
lemon - 1 pc;
apples (preferably Antonovka or other sour varieties) - 300 g;
walnut kernels - 300 g.
Cooking process:
Pour boiling water over the peeled and washed black chokeberries, leave overnight.
In the morning, take 1 glass of the resulting infusion, mix it with 1.5 kg of sugar and boil until completely dissolved to make a syrup. While it is simmering, add berries, apple slices and pre-crushed nut kernels. Boil for 10 minutes and let cool slightly for 1–2 hours. After that, repeat the cooking process 2 more times for 10 minutes.
When you cook the mixture for the third time, add lemon to it. Pre-scald it, peel it, cut it arbitrarily and be sure to remove the seeds - because of them, the jam will taste bitter.
Cover the saucepan with ready-made jam with a cotton cloth and cover on top with another container of the same diameter. This will create an air cushion that will significantly soften the rowan fruit.
Leave this structure overnight, and in the morning, spread the infused jam in sterilized jars and close the lids. Store it in a cool place (unless, of course, you eat all the jam in a week!).
Quick jam-five minutes
Making such a jam will take you the least time.
Difficulty level: easy. Cooking time: about 40 min.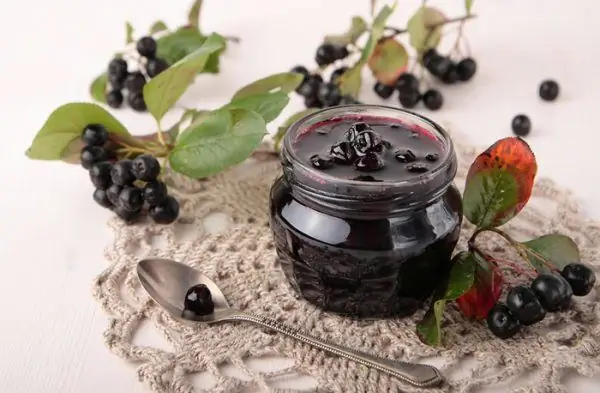 Making a five-minute jam won't take much of your time
Ingredients:
2 kg of black chokeberry berries;
1 kg of sugar.
For this jam, it is easier to use not the exact amount of products in grams, but the proportions: for 2 parts of the fruit, 1 part of granulated sugar.
Blanch the washed berries in boiling water for 5 minutes, then grind in a meat grinder or blender. Mix thoroughly with sugar, put on low heat. Heat until sugar is completely dissolved.
Increase the heat a little bit, let it simmer and cook for 5 minutes.
Distribute the jam into clean, sterilized jars. Place them in a large saucepan, pour water over the shoulders of the cans. After boiling water, sterilize the jam for 20 minutes, then roll up the lids.
If you want, add some citric acid or baked grated apples to the five-minute jam.
After the jam has cooled down at room temperature, put it in the basement for storage. A refrigerator is also suitable - the main thing is that it is dark, dry and cool.
Dry Kiev mountain ash and plum jam
This recipe is very unusual. At first glance, it will seem difficult to you, it will take a lot of time and attention. But the result will greatly delight everyone!
Difficulty level: difficult. Cooking time: 60 minutes.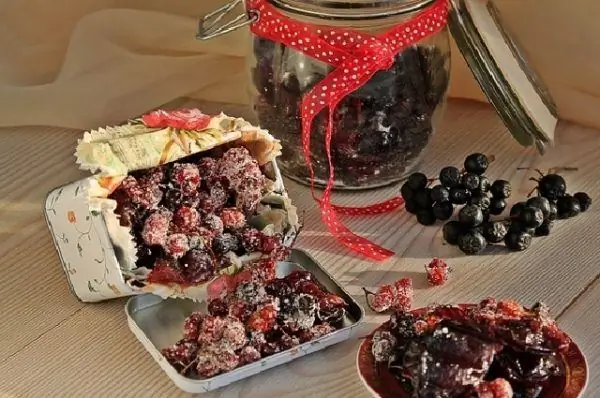 A very unusual and original recipe for chokeberry jam
Ingredients:
250 g chokeberry;
250 g of red rowan;
500 g plums;
400 g of sugar (of which 300 g for syrup, 100 g for sprinkling);
300 ml of water;
1 gram of cloves.
Cooking process:
Rinse the mountain ash, disassemble it into small bunches (several berries on a branch). Put in the freezer for 30 minutes so that the bitterness leaves the mountain ash and only the astringency remains.

Divide the plums into halves and remove the seeds from them. It is better to take the fruits of the "Hungarian" variety, not overripe and firm.

Peeled plums

Pitted and halved plums

Put the saucepan on the fire and prepare the sugar syrup. Add fruits to it, boil for 5 minutes. Do not forget to skim off the foam during cooking. At this point, you can add a carnation.

Plums in jam

Boil plums and berries in syrup for 5 minutes

Remove the jam from heat, let it brew for 2-3 hours. Boil the cooking two more passes. You can cook plum and mountain ash separately from each other, but this is optional.
You can easily determine the readiness of the jam by eye. The plum pulp, retaining its shape, will become honey, and the red mountain ash will take on an amber color.

Use a slotted spoon to remove the fruits from the pan and place them in a sieve. Wait for the syrup to drain.

Rowan berries

Let the berries and plums drain

Sprinkle fine sugar on plums and rowan berries (you can use powdered sugar). Place on a wire rack and place in the oven for 2.5 hours at a temperature of up to 100 degrees. Make sure that the fruits do not dry out.

Dry jam in the oven

Dry the fruits on a wire rack in the oven until tender.
Such dry jam is somewhat reminiscent of candied fruit. It can be stored for a long time even at room temperature and any humidity in a tightly sealed container.
Zucchini recipe
Yes, you understood correctly: we will combine berries with this wonderful vegetable. You are probably familiar with the recipes for many unusual zucchini dishes. Why not cook delicious jam from it and the blackberry?
Difficulty: medium. Cooking time: 80 minutes.
Ingredients:
1 kg of chokeberry;
1 kg of zucchini;
1 kg of sugar;
2 cinnamon sticks;
1 lemon.
Go through the mountain ash, peel it of the stalks and wash. Dry slightly.

Chokeberry and squash

Wash the zucchini and rowan berries thoroughly

Wash the zucchini, cut the peel, remove the seeds. Cut into small cubes.

Sliced zucchini

Peel and cut the courgette into cubes

Place the rowan and zucchini in a bowl, cover with sugar and mix gently. Leave it on for a couple of hours. During this time, the products will start juice. Stir again and leave for another 3 hours to soak well.

Rowan, zucchini and sugar in a bowl

Mix food and sugar in a bowl and leave for a while.

Put the dishes on a low heat to simmer, add the cinnamon sticks and squeeze out the lemon juice (make sure that its seeds do not get into the jam). Allow to boil and cook, stirring constantly, for 30 minutes. Such jam almost does not foam.

Blackberry jam with zucchini

Cook for 30 minutes with cinnamon and lemon juice

Leave the jam overnight until it cools completely. Boil it again for 30 minutes and put it still hot in sterilized jars. Roll up the lids and let cool in the room. There are no special storage conditions: you can leave it in the house, put it in the refrigerator or lower it into the basement.

Ready chokeberry jam

Put the finished jam in the jars until it cools
The berries in this jam do not lose their shape, and the slices of zucchini resemble candied fruits.
Field of Dreams
A very simple recipe containing products that will give the jam an extraordinary aroma and delicate sweetness.
Difficulty level: easy. Cooking time: 60 minutes.
Ingredients:
1 kg of rowan berries;
1 kg of sugar;
200 g of raisins;
1 lemon;
1 orange.
Cooking process:
Rinse the black chokeberry fruits, peel the stalks, dry them. Pour boiling water over the lemon and orange, cut without peeling, remove the seeds.

Grinding citrus fruits in a meat grinder

Grind oranges and lemons in a meat grinder together with rowan berries

Pass the berries and fruits together through a meat grinder. Put the mixture in a saucepan or bowl, add sugar and put in the washed raisins.
Place the saucepan on the stove, let it simmer, and reduce heat. Cook for 45 minutes. Place immediately in sterilized jars and roll up the lids.
Store the jam in a cool dry place.
Quick dry blackberry jam (no boiling)
Here is another recipe for dry jam, which compares favorably with the previous one in simplicity and speed of preparation.
Difficulty level: easy. Cooking time: about 40 minutes.
Ingredients:
1 kg of chokeberry;
1 liter of water;
300 g sugar;

5 g citric acid.

Chokeberry, sugar and citric acid

Jam ingredients
Cooking process:
Wash the rowan berries thoroughly. Remove the stalks if desired. You don't have to do this: the berries on the twigs look even more interesting in the finished jam. Boil 1 liter of water in a saucepan and add citric acid. Pour the berries into boiling water and blanch for 2 minutes.

Blanching berries

Blanch blackberries in boiling water for 2 minutes

Take a clean baking sheet and spread the berries from the pan into it with a slotted spoon. Make sure the water is glassy. The layer of berries on the baking sheet should be about 3 cm thick.

Berries on a baking sheet

Spread the berries on a baking sheet with a slotted spoon

Fill the berries evenly with granulated sugar. Preheat the oven to 200 degrees and place a baking sheet in it. When the jam boils, let it boil for 20 minutes.

Berries in the oven

Boil berries covered with sugar in the oven for 20 minutes

Remove the baking sheet from the oven, let the berries cool. Then place them on parchment paper sprinkled with sugar and leave to dry at room temperature. When the berries look like candied fruits, the jam is ready. You can enjoy it right away or put it in dry glass jars for long-term storage.

Drying berries

Dry the berries on paper until tender
Sugar-free jam
In addition to all the positive qualities, chokeberry is very useful for people with diabetes. They can also treat themselves to chokeberry jam, but without sugar.
Difficulty: medium. Cooking time: about 60 minutes.
For such a jam, you do not need to observe the proportions of the products. The recipe is a little more complicated than that of jam with sugar, but there are no particular difficulties in its execution.
First of all, you need to prepare a large saucepan, wide and with low walls. Place a rag at the bottom.
Process blackberry berries with boiling water and place them in half-liter jars. Pour water into a saucepan and bring to a boil. Place the jars of berries in boiling water so that the water reaches them to the shoulders, but does not pour inside. Reduce the heat under the saucepan to just enough to keep it boiling.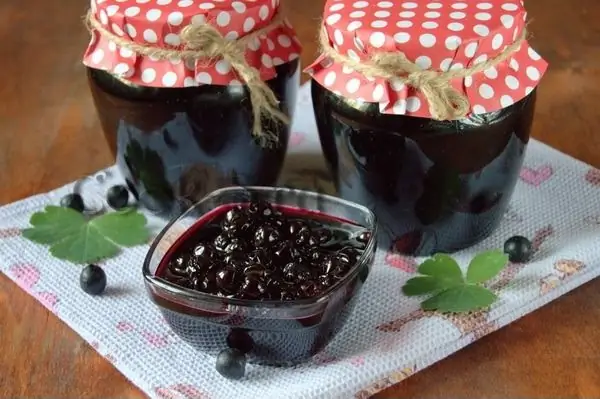 This jam is prepared by sterilizing jars filled with berries.
While the water is boiling, the berries in the jars will slightly settle; you will have to add them to fill the empty space.
The boiling process should last no more than 40 minutes. after that, remove the jars from the pan, roll up the lids and let cool at room temperature. Store in a cool dry place.
Video about making chokeberry jam without cooking
What can you combine with?
Like any berry, chokeberry, even in the form of jam, is perfect for any festive and everyday table.
Jam diluted with boiling water will become a very tasty and healthy substitute for tea. This drink will charge you with vigor for the whole day, cure colds, strengthen blood vessels, and raise immunity. With regular use, you will notice that the mood improves, the melancholy recedes, giving way to composure and calmness.
It is very good to eat a hearty sandwich with such a drink: a slice of white bread, butter, a slice of cheese and a spoonful of chokeberry jam. You will surely like the piquant taste.
Needless to say, this jam is perfect as a filling? If you love baking, then you will appreciate the taste of pies, muffins, muffins, seasoned with jam, prepared according to any of the above recipes.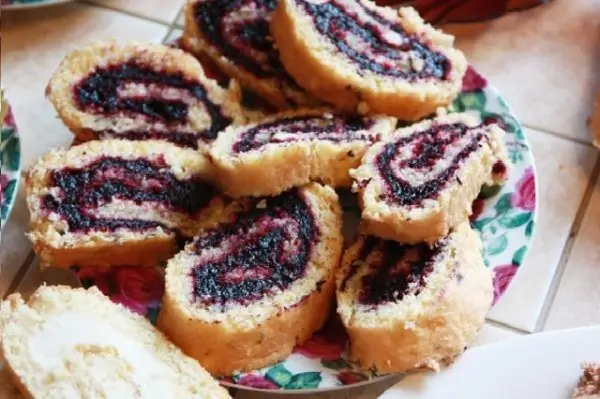 Chokeberry jam roll
You probably know how to bake apples with honey. Be sure to try replacing honey with blackberry jam - the taste will surprise you extraordinarily! If you like to add sweetness to fresh berries and fruits, cut them into pieces and mix with the jam. Add the resulting mass to cottage cheese, oatmeal and any other porridge, and you get a complete, satisfying, tasty and healthy dish for the whole family!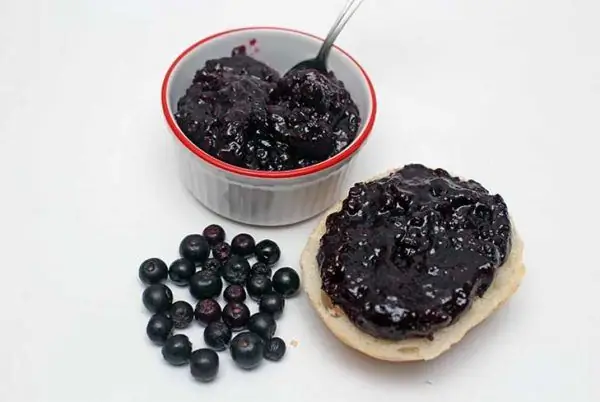 A simple chokeberry jam sandwich will fill you up and revitalize!
In the end, for restless kids such a jam is just a godsend: spread a little on a slice of bread, have a snack on the go, and with fresh energy - to new feats and adventures!
Hostess reviews
We hope that among these recipes you will find those that will become your favorite. And you will surely come up with something of your own, special. Please tell us in the comments how you make chokeberry jam. Bon appetit and comfort to your home!
Popular by topic